I'm constantly finding out about new books that I feel like I might enjoy.  I don't always get around to reading them (at least not in a timely manner) but I always make sure to put them on my Goodreads TBR so I don't forget about them.  I decided to start sharing a few each week in hopes that you guys might find some new reads for your own TBRs.
Disclaimer: these will not always be new releases.  Sometimes it takes me a while to find out about some books.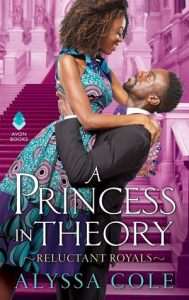 From acclaimed author Alyssa Cole comes the tale of a city Cinderella and her Prince Charming in disguise . . .

Between grad school and multiple jobs, Naledi Smith doesn't have time for fairy tales…or patience for the constant e-mails claiming she's betrothed to an African prince. Sure. Right. Delete! As a former foster kid, she's learned that the only things she can depend on are herself and the scientific method, and a silly e-mail won't convince her otherwise.

Prince Thabiso is the sole heir to the throne of Thesolo, shouldering the hopes of his parents and his people. At the top of their list? His marriage. Ever dutiful, he tracks down his missing betrothed. When Naledi mistakes the prince for a pauper, Thabiso can't resist the chance to experience life—and love—without the burden of his crown.

The chemistry between them is instant and irresistible, and flirty friendship quickly evolves into passionate nights. But when the truth is revealed, can a princess in theory become a princess ever after?
When a 200-year-old witch attacks her, sixteen-year-old bookworm Lainey Styles is determined to find a logical explanation. Even with the impossible staring her in the face, Lainey refuses to believe it—until she finds a photograph linking the witch to her dead mother.

After consulting a psychic, Lainey discovers that she, like her mother, is a Keeper: a witch with the exclusive ability to unlock and wield the Grimoire, a dangerous but powerful spell book. But there's a problem. The Grimoire has been stolen by a malevolent warlock who is desperate for a spell locked inside it—a spell that would allow him to siphon away the world's magic.

With the help of her comic-book-loving best friend and an enigmatic but admittedly handsome street fighter, Lainey must leave her life of college prep and studying behind to prepare for the biggest test of all: stealing back the book.
Witch. Betrayal. Hunted.

Jayin Ijaad is in hiding. A witch with powerful abilities, she carves out a life for herself in the slums of Pavaal, a city rotting from the inside out. When an old acquaintance tracks her down, Jayin is dragged back into a world she tried to escape — and is determined to escape again.

Maddix Kell is on the run. After two years in prison for crimes he did not commit, Maddix escapes and seeks out a legendary order of witchhunters who are his only chance to find justice.

But all is not as it seems and Maddix soon finds himself on the run from the people he sought as allies. When their paths collide, Jayin and Maddix must put aside their prejudices and forge an uneasy alliance that could crumble at any moment. But if they want to survive in Aestos — a brutal kingdom where magic and corruption lie hand in hand and enemies lurk around every corner — they must first survive each other.
HAVE YOU READ ANY OF THESE RECENT ADDS?  IF NOT, ARE ANY OF THEM ON YOUR TBR?