It's been quite some time since I've done a subscription box review but I figured the July 2018 Ultimate Nerdy Post would be a good place to start these up again.
The company: Nerdy Post
About the box: Nerdy Post is a subscription box featuring hand lettered and illustrated fandom artwork.  Each month is a new theme.  The box options include Nerdy Post Lite, Nerdy Post, Ultimate Nerdy Post, Nerdy Tees, Nerdy Combo, or Ultimate Nerdy Combo.
Nerdy Post Lite: 5 items in each box – $9.95 a month + shipping
Nerdy Post: 8 items in each box – $13.95 a month + shipping
Ultimate Nerdy Post: 10-12 items in each box – $22.95 + shipping
Nerdy Tees: t-shirt only – $15.95 + shipping
Nerdy Combo: Nerdy Post plus the t-shirt – $29.90 + shipping
Ultimate Nerdy Combo: Ultimate Nerdy Post plus the t-shirt – $38.90 + shipping
Complete Ultimate Nerdy Post for July 2018:
Charlie and the Chocolate Factory large print
Little Women/Charlotte's Web bookmark
Peter Pan sticker
The Little Prince pin
The Giving Tree coloring postcard
A Wrinkle in Time mini print
Winnie the Pooh mini print
Ella Enchanted/A Little Princess fat bookmark
Anne of Green Gables candle by Tookish Candle Company
Wizard of Oz mini print
The Secret Garden patch
Matilda zip pouch
Tuck Everlasting necklace
The Last Unicorn glitter mini print
My Thoughts:
I wasn't sure if I was going to get this box.  I debated it and decided to just go ahead.  I knew there was a chance that I wouldn't know or care about the childhood classics included but I figured there was a better than even chance that I would like the designs.  This one definitely isn't one of my favorites from Nerdy Post but I liked the majority of the items that were included.
My favorite items this time around were definitely the enamel pin and the Winnie the Pooh print.  The Winnie the Pooh print has found a place of honor in my cubicle at work (it's already gotten a few laughs).  As for the pin, I haven't actually read The Little Prince but I can appreciate how adorable the pin is and I love the quote choice.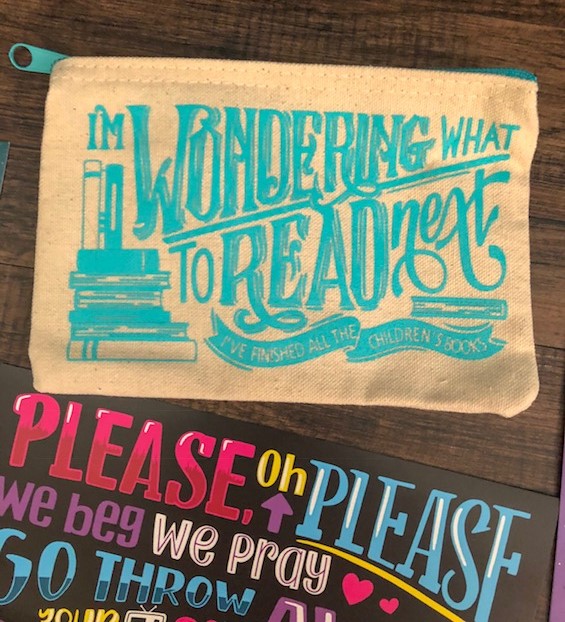 I know I will definitely be getting a lot of use out of the iron-on patch and pencil pouch.  I always love useful little items like those and Nerdy Post always includes some great ones.  The pouch is high quality and I have a feeling it's going to get filled with makeup and band-aids and get tossed in my purse.  Plus the blue writing is so stunning.  That color choice was perfect.
I would have to say that the only thing from the Childhood Classics box that I won't be using is the necklace.  It contained some light blue liquid when I got it but it appears to have had a leak and now is pretty much empty.  It's not really anything I would wear either way so it was no great loss.  The idea was cute but it just came out looking a little cheap.
Overall, I'd say this was a solid month for Nerdy Post.  It included a great selection of quotes and some truly adorable items.  I can't wait to see what will be included in August's box (the theme is Shadowhunters).