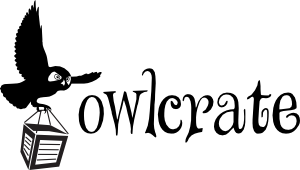 The company: Owlcrate
About the box: Owlcrate is a subscription box featuring new releases of any genre for young adult readers.
Complete Owlcrate for June 2019:
Book Beau Brew: Belle's Library
Brio & Brandish Enamel Pin
Key Gel Pen (not pictured)
KDP Letters Coaster Set
Stella Bookish Art 'Strange the Dreamer' Tote Bag
Hey Atlas Creative 'The Lion, the Witch, and the Wardrobe' Metal Bookend Set
Signed Custom Dustjacket Hardcover of Sorcery of Thorns by Margaret Rogerson
My Thoughts:
I've been a subscriber to Owlcrate for over a year now and they have yet to disappoint me with one of their boxes.  The June 2019 'Libraries of Wonder' box was no exception.  While I'm not necessarily going to use every item (I don't drink coffee so that's going to a friend), I feel like I got my money's worth from the items that I'm definitely going to use.
My favorite item this month is probably the coaster set.  Not only are the designs stunning, the quotes are from some of my favorite books.  I never thought I'd be the type of person to use coasters but I am and I will be adding these to my collection immediately.  The Victoria Schwab one has to be my favorite though.  I adore the quote and the little skull details in the design are too perfect.
While the coasters are my favorite, the bookend set is quite possibly the most useful item for me from this month's Owlcrate.  The simple black metal design goes with any room and I've needed a set of bookends for years.  I can't wait to find the perfect shelf to put these on.
I must say that I was extremely impressed with the Owlcrate exclusive edition of the book this month.  I loved An Enchantment of Ravens by Margaret Rogerson so Sorcery of Thorns is definitely on my TBR.  The purple cover is stunning and I always love being able to add another signed book to my collection.
Also, each month Owlcrate includes a custom enamel pin designed by a different company and each month's pin goes along with the book choice of the month.  I wasn't able to get a great picture of this month's due to glare but it's an adorable cat pin that says "child of the library."  I haven't decided yet if it's going on my pin banner or if I've gotta take this one in to work to put at my desk.
Overall, the June Owlcrate box provided me with some useful items that will soon be in use in my library.  If you've been on the fence about getting this one, I'd highly recommend you check it out.
Did you get the June Owlcrate?  What was your favorite item?