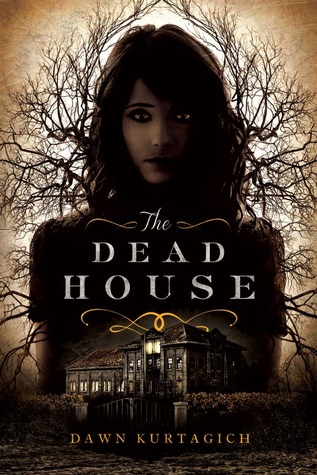 The Dead House

by Dawn Kurtagich
on September 15th 2015
Genres: Horror
Pages: 400
Format: Hardcover
Source: Publisher
Buy on Amazon
Goodreads

Three students: dead. Carly Johnson: vanished without a trace.

Two decades have passed since an inferno swept through Elmbridge High, claiming the lives of three teenagers and causing one student, Carly Johnson, to disappear. The main suspect: Kaitlyn, "the girl of nowhere."

Kaitlyn's diary, discovered in the ruins of Elmbridge High, reveals the thoughts of a disturbed mind. Its charred pages tell a sinister version of events that took place that tragic night, and the girl of nowhere is caught in the center of it all. But many claim Kaitlyn doesn't exist, and in a way, she doesn't - because she is the alter ego of Carly Johnson.

Carly gets the day. Kaitlyn has the night. It's during the night that a mystery surrounding the Dead House unravels and a dark, twisted magic ruins the lives of each student that dares touch it.

Debut author Dawn Kurtagich masterfully weaves together a thrilling and terrifying story using psychiatric reports, witness testimonials, video footage, and the discovered diary - and as the mystery grows, the horrifying truth about what happened that night unfolds.
The Dead House was high on my list of books to get at BEA.  I hadn't heard much about it but the synopsis and cover really caught my attention.  I'm not a huge horror fan (I'm such a scaredy cat) but I really wanted to give this one a try.  I'm really glad I did.  I wasn't nearly as scared as I thought but The Dead House certainly caught my attention and kept me hooked from start to finish.
I really don't know what I expected from The Dead House.  I couldn't really figure out what the story was going to be just from reading the synopsis and I think that worked in it's favor.  I went in completely openminded and didn't really expect anything other than a story that would creep me out.  While it started off more of a psychological thriller than a horror, it definitely changed to something a bit scarier.  Kaitlyn/Carly's story is very addictive and not at all what I was guessing.
The story is told through newspaper clippings, transcripts, journal entries, letters, etc.  Not only do readers get to see both Kaitlyn and Carly's thoughts, they also get to see the thoughts of the people in their lives.  Friends, love interests, and even doctors weigh in on what happened with Kaitlyn and Carly and the other missing students.  And the story actually starts off years after the accident and takes readers back in time by going through the case as a police officer would.  All the evidence is presented and it's up to readers to decide what really happened that night.
To be completely honest, I wasn't a huge fan of any of the characters and I think that has something to do with the style of writing.  It was extremely hard for me to get in the mind of any of the characters and so I never felt like I could relate to them or really love them.  So much of their stories were unknowns and I didn't like that.
Carly and Kaitlyn were the same person but they were two very different girls.  Carly had the daytime hours and Kaitlyn took over at night.  They didn't have any control over each other when it was the other's time in the body.  The journal found in the ruins after everything goes down is Kaitlyn's and it shows everything Kaitlyn thought and felt but not so much Carly.  There were a few little things from Carly in the journal but not much.  She was very much a mystery.  She had friends and a boy who was interested in her.  She was essentially her own person.  It was the same with Kaitlyn, although not so much the friends part.  She did have a boy though.  The romance seemed a little out of nowhere but I didn't have too many issues with it.  I could see why the two of them got along and I could see that Kaitlyn needed someone.
As for the mystery, there is a lot and it's not anything you will see coming.  Things just kept coming out of nowhere, it seemed.  I could never guess a single thing that was going to happen.  The mystery of how the accident would go down was what kept me reading.  And it may not be for everyone but I liked that the ending left things a little open.  This isn't a open and close case.  Nobody survived so nobody is there to tell exactly what happened that night.
Overall, The Dead House wasn't exactly perfect but horror fans and newbie horror readers can find something to enjoy in this one.  I look forward to seeing what's next from Dawn Kurtagich.
What others are saying about The Dead House:
Beauty and the Bookshelf's review: "The Dead House was a very interesting and intriguing debut and novel, to say the least."
My Friends are Fiction's review: "I finished this book last night and my first take away was that The Dead House was brilliantly and wonderfully WEIRD."