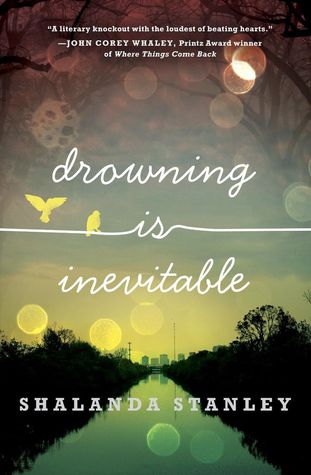 Drowning Is Inevitable

by Shalanda Stanley
Published by Random House on September 8, 2015
Genres: Contemporary
Pages: 288
Format: ARC
Source: Bought
Buy on Amazon
Goodreads

"A literary knockout with the loudest of beating hearts."
John Corey Whaley, Printz Award winner of Where Things Come Back

Olivia has spent her whole life struggling to escape her dead mother's shadow. But when her father can't even look at her because Olivia reminds him of her mother, and her grandmother mistakenly calls her "Lillian,"  shaking a reputation she didn't ask for is next to impossible. Olivia is used to leaning on her best friend, Jamie; her handsome but hot-tempered boyfriend, Max; and their wild-child friend, Maggie, for the reality check that her small Louisiana town can't provide. But when a terrible fight between Jamie and his father turns deadly, all Olivia can think to do is grab her friends and run.

In a flash, Olivia, Jamie, Max, and Maggie become fugitives on the back roads of Louisiana. They're headed to New Orleans, where they hope to find a solution to an unfixable problem. But with their faces displayed on all the news stations, their journey becomes a harrowing game of hide-and-seek from the police—and so-called allies, who just might be the real enemy.

Shalanda Stanley's breathtaking debut novel explores the deep ties between legacy, loyalty, and love, even as it asks the question: How far would you go to save a friend?
This is one of those books that's really hard to review.  It's not that I didn't like it or that I loved it, it's just kinda right there in the middle.  Drowning is Inevitable is definitely a strong debut but it's one of those books that will appeal to some people but not at all to others.
Shalanda Stanley's writing is beyond stunning. She's one of those authors that could write a phone book and make it captivating. I wish I still had my ARC of the book so I could share some quotes but just take my word for this.  Her style of writing is extremely lush and descriptive.  It's perfect for the setting of a small-town in the south and New Orleans.
Olivia is a hard character to like.  She's spent her whole life in the shadow of her dead mom and she's come to accept that she is not her own person.  It takes some extremely drastic measures for her to finally realize that she is an individual who makes choices of her own and has a life ahead of her that is all her own.  Even after she starts living her own life, she doesn't make the best decisions.  She's completely loyal, though.  I will give her that.  She loves Jamie with all her heart and can't, even for a second, see that there might be something bad in him.  Personally, I couldn't see the bad in him either.  He made a bad decision that affected him, his family, and his friends, but he did it out of love and terror.  As for Max and Maggie, I didn't have many feelings for them, one way or the other.  Max was not the smartest guy out there and he was extremely jealous of how close Olivia was with Jamie.  That doesn't mean he wasn't willing to do whatever it took to see Olivia and Jamie safe.
The story is a lot more slow moving than I expected from the synopsis and the start of the book.  Things take off early but from there they fizzled out a bit.  Jamie, Olivia, Max, and Maggie go on the run and things only get worse for them from there.  They don't know who they can trust and they don't always trust the right people.  Family means nothing to these kids' actual families.  They are more family to each other than any of their parents.  They were pretty much on their own and they did whatever they had to do to protect one another.
As much as I could see things coming, I couldn't stop reading.  This book is very much like a train wreck.  You know it can't end happily but you just can't look away.  Even though they may have been in less trouble if they'd turned themselves in early, you know they can't completely get away with what they've done.  They either take their chances on the run (which they do) or they take their chances with the law.  It was a lose-lose situation from the start.
While the story really does center on these 4 teens while they are on the run, it's also a story about Olivia and her mom.  Her mom committed suicide shortly after she gave birth to Olivia and that death defined the beginning of Olivia's life.  Her dad couldn't stand to look at her because of the similarities to her mom and her grandmother only saw the similarities between Olivia and her mom.  Then there was the fact that everyone in town expected her to follow in her mom's footsteps.  Olivia's life wasn't her own for most of the book and it took this crazy trip for her to finally start to see that maybe she could make her own decisions and her own mistakes.
Overall, Drowning Is Inevitable is a stunning debut novel that will take readers by surprise.  It's a story full of layers that continued to take me by surprise.
What others are saying about Drowning Is Inevitable:
Emily Reads Everything's review: "This book was both heartwarming and heartbreaking."
The Book Hookup's review: "Drowning is Inevitable perfectly captured life in all its complicated glory."