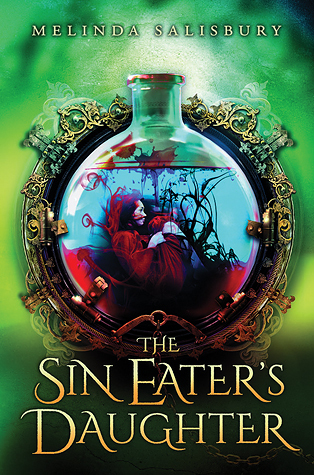 The Sin Eater's Daughter

by Melinda Salisbury
Series: The Sin Eater's Daughter #1
Published by Scholastic on February 24, 2015
Genres: Fantasy
Pages: 336
Format: eARC
Source: Edelweiss, Publisher
Buy on Amazon
Goodreads

Seventeen-year-old Twylla lives in the castle. But although she's engaged to the prince, Twylla isn't exactly a member of the court.

She's the executioner.

As the Goddess embodied, Twylla instantly kills anyone she touches. Each month she's taken to the prison and forced to lay her hands on those accused of treason. No one will ever love a girl with murder in her veins. Even the prince, whose royal blood supposedly makes him immune to Twylla's fatal touch, avoids her company.

But then a new guard arrives, a boy whose easy smile belies his deadly swordsmanship. And unlike the others, he's able to look past Twylla's executioner robes and see the girl, not the Goddess. Yet Twylla's been promised to the prince, and knows what happens to people who cross the queen.

However, a treasonous secret is the least of Twylla's problems. The queen has a plan to destroy her enemies, a plan that requires a stomach-churning, unthinkable sacrifice. Will Twylla do what it takes to protect her kingdom? Or will she abandon her duty in favor of a doomed love?
The Sin Eater's Daughter was one of those books that I'd heard nothing but good things about.  Needless to say, my expectations were pretty high.  While I wasn't quite as blown away as I'd hoped, I was definitely impressed with Melinda Salisbury's debut novel.
Twylla possessed the ability to kill people with a single touch, making her extremely valuable to the rulers of her kingdom.  She was used as a weapon by the king and queen but also betrothed to their son, Merek.  While she was an asset to the kingdom, she was not treated as such.  She was very much alone among the other royals.  Her guards were the closest thing to friends that she had.  Her life was very solitary and kind of depressing.
Twylla was a weak point for me.  She was quite naive.  She didn't question her abilities, how she got them, why she got them, or how they worked.  She accepted what the king and queen told her, even when things didn't always add up.  Enter Lief, Twylla's new guard from another kingdom.  He treated her as a person rather than a tool.  He made her question everything she had known.  He changed her and I liked the side of her that he brought out.  Of course Merek was still in the picture but he took a backseat to Lief in the romance department.  Major love triangle in The Sin Eater's Daughter but I truly don't know how I feel about this one.  Lief and Merek both had secrets but they both were good fits for Twylla, in different ways.
The lore throughout the book was definitely the best part.  The history of the kingdom as well as the whole world was so thought out and extensive.  The practice of sin eating was extremely interesting.  There wasn't a whole lot about sin eating at first but it does come into play later in the story.  There is also a fairytale that comes into play closer to the end of the story and it blew my mind when everything came together.
I feel like I'm not doing a good job playing up how good The Sin Eater's Daughter was.  There is romance, betrayal, folklore, mystery, and so much more.  It's an interesting start to a new fantasy series.  The cliffhanger ending kind of killed me and I'm definitely going to continue this series.
Overall, fantasy fans should check out The Sin Eater's Daughter.  Melinda Salisbury shows real talent with her debut novel.
What others are saying about The Sin Eater's Daughter:
Jess Hearts Books' review: "The Sin Eater's Daughter was a rich mystery driven Fantasy that's sure to keep readers enthralled with its surprising twists and unique world."
Woven Magic's review: "I like my fantasys with take charge heroines, magic and battles and political plots, but for a fantasy romance this was good. (and there was plenty of conniving by bad guys.)"
Fiction Freak's review: "Read this. Seriously. Honestly. Read The Sin Eater's Daughter and you won't regret it."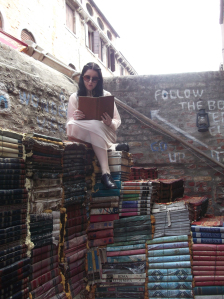 About Melinda:
Melinda Salisbury lives by the sea, somewhere in the south of England. As a child she genuinely thought Roald Dahl's Matilda was her biography, in part helped by her grandfather often mistakenly calling her Matilda, and the local library having a pretty cavalier attitude to the books she borrowed. Sadly she never manifested telekinetic powers. She likes to travel, and have adventures. She also likes medieval castles, non-medieval aquariums, Richard III, and all things Scandinavian. The Sin Eater's Daughter is her first novel, and will be published by Scholastic in 2015. She is represented by the amazing Claire Wilson at Rogers, Coleridge and White.
She tweets. A lot.
Website | Twitter | Goodreads | Tumblr | Instagram | Pinterest
Giveaway!
5 winners will receive copies of The Sin Eater's Daughter
Tour Schedule
Week One:
2/16/2015- Fiktshun– Interview
2/17/2015- Katie's Book Blog– Review
2/18/2015- Magical Urban Fantasy Reads– Guest Post
2/19/2015- Beauty and the Bookshelf– Review
2/20/2015- Novel Novice– Interview
Week Two:
2/23/2015- Fiction Fare– Review
2/24/2015- Supernatural Snark– Guest Post
2/25/201- YA Bibliophile– Review
2/26/2015- Dark Faerie Tales– Interview
2/27/2015- Two Chicks on Books– Guest Post