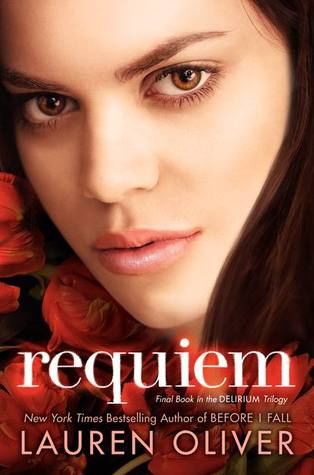 Requiem

by Lauren Oliver
Series: Delirium #3
Published by Harper Teen on March 5, 2013
Genres: Dystopian
Pages: 391
Format: ARC
Source: Publisher
Buy on Amazon
Goodreads

Now an active member of the resistance, Lena has transformed. The nascent rebellion that was underway in Pandemonium has ignited into an all-out revolution in Requiem, and Lena is at the center of the fight. After rescuing Julian from a death sentence, Lena and her friends fled to the Wilds. But the Wilds are no longer a safe haven. Pockets of rebellion have opened throughout the country, and the government cannot deny the existence of Invalids. Regulators infiltrate the borderlands to stamp out the rebels.

As Lena navigates the increasingly dangerous terrain of the Wilds, her best friend, Hana, lives a safe, loveless life in Portland as the fiancée of the young mayor. Requiem is told from both Lena and Hana's points of view. They live side by side in a world that divides them until, at last, their stories converge.
I was very hesitant to read Requiem.  I had an ARC for months before it came out but I just couldn't force myself to read it.  All I had seen was pretty bad reviews and I just didn't want to end up hating the final book in a trilogy that I adored.  Finally though I couldn't put it off any longer.  While I didn't love it nearly as much as the first two books, I was happy with how things ended and I felt that everything tied up nicely.
Requiem was a very slow read for me.  After devouring the first two books, I expected to do the same with this one.  That was not the case.  Things progressed very slowly and I found my attention wandering while reading.  There's more buildup than actual action in Requiem and I was most disappointed with that.  The revolution has arrived!  Why isn't anyone actually doing anything though?  Don't expect to be on the edge of your seat with this one.
I was also really disappointed with the whole love triangle aspect of this book.  Really, I was disappointed with it for the whole trilogy.  I understood Alex and Lena's relationship in the first book and I loved it.  When the second book came out I didn't know what to expect based on the ending of the first book.  I was really upset when some new guy was introduced and we were expected to believe that Lena was in love with him and not Alex anymore.  It just didn't work for me.  With Lena's personality, her reluctance for her relationship with Alex, and so on, I just didn't see it as realistic.  I really didn't get it in Requiem.  Lena came across as this insecure girl who couldn't stand on her own two feet and instead needed a man to help her with everything.  Then of course there was Alex.  He's not the same Alex from the first book, that's for sure, but boy did I still love him.  Julian just never did it for me and no matter what I'm team Alex all the way.
Lucky for me, Lauren Oliver's fabulous writing really held the book together and made me continue reading. I could quote this whole book to you guys, it's just so gorgeous.  Lauren Oliver manages to take a completely bleak and almost hopeless world and make it beautiful.  I adore that about her writing.
As for the ending, I know that's what I was really worried about when I started Requiem.  While I admit it was a little abrupt, I felt that everything readers needed to know was included in the book and to me, the ending was pretty much perfect.  It's a very open ended ending, that's for sure, but in this case, there's nothing wrong with that.  Also, no matter what anyone says, Lena definitely made her choice as to which guy she was really in love with.  It wasn't a huge focal point at the end but it came across very clear to me and I really don't see how people think she didn't choose.  I was more than satisfied with the way this trilogy ended.
Overall, while not perfect, Requiem was a good ending to the Delirium trilogy and I really do think fans will enjoy it.
Looking for more reviews of Requiem by Lauren Oliver?
Mundie Moms' review
Uncorked Thoughts' review
Beauty and the Bookshelf's review
Queen Ella Bee Reads' review