Crossed

by Ally Condie
Series: Matched #2
Published by Penguin Teen on November 1, 2011
Genres: Dystopian
Pages: 367
Format: ARC
Source: BEA
Buy on Amazon
Goodreads

The Society chooses everything. 

The books you read. 
The music you listen to. 
The person you love. 

Yet for Cassia the rules have changed. Ky has been taken and she will sacrifice everything to find him. 

And when Cassia discovers Ky has escaped to the wild frontiers beyond the Society there is hope.

But on the edge of society nothing is as it seems...

A rebellion is rising.

And a tangled web of lies and double-crosses could destroy everything.
It's about time I got around to reading Crossed. I've been wanting to read this book since I first finished Matched but for some reason I kept putting it off. While Crossed was not quite as enthralling as Matched, I'm happy to say that I enjoyed it.
Crossed starts off shortly after the final events of Matched. I admit that I read Matched a while ago. I didn't remember exactly what happened but I remembered enough that I could muddle through things. There were a few points where I was a little confused but lucky for me, those points were clarified. As for the rest of the story, while it was a little slow, it did a good job of showing what things were like outside of the Society. The Rising started to take shape in this book and many new questions were posed about what the Society was really up to. While there wasn't much action to this book, there was enough new information for me to be intrigued and I never once thought about putting it down.
The romance seemed very toned down from the first book. It seemed like Matched spent a good portion of the book setting up the romance between Cassia and Ky. That wasn't the case with Crossed. There were some mixed signals in the beginning when I thought Crossed would be Cassia and Xander's book but that was definitely not the case. The romance between Cassia and Ky is still strong but it took a backseat to everything else going on with them. New characters were introduced as well as new dangers. Crossed also was more about Ky's past than anything. He's not nearly as big a mystery as he was in Matched.
Cassia was a little disappointing to me in Crossed. She was brave, smart, resourceful, and all I could want in a heroine but she just didn't seem special in any way. She was exactly like all the other dystopian/fantasy/paranormal heroines out there. I wanted her to stand out to me and she didn't. I'm not saying I didn't like I her (because I did), I just really wanted more from her. Ky was more interesting to me than Cassia was. He was a very troubled character, both because of his past and his present. I felt for him and I really wanted to see him happy because it was clear, no matter what he did, he was a good guy. And yes there is some Xander in Crossed but not much. Honestly, I like Ky better just because I know him better than Xander. I have no issues with either boy. I think they are both great guys but at this point in time I am 100% Team Ky.
Overall, Crossed does a great job setting things up for the final book in the trilogy. It narrowly avoided the second book syndrome but in the end I was pleased with it. Things are relatively wrapped up at the end, it's not a cliffhanger, and readers won't mind the wait for the final book too much.
Looking for more reviews of Crossed?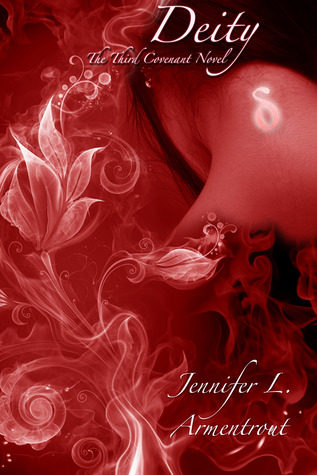 Deity

by Jennifer L. Armentrout
Series: Covenant #3
Published by Spencer Hill Press on November 6, 2012
Genres: Fantasy
Pages: 360
Format: ARC
Source: BEA
Buy on Amazon
Goodreads

"History is on repeat, and things didn't go so well the last time. "

Alexandria isn't sure she's going to make it to her eighteenth birthday--to her Awakening. A long-forgotten, fanatical order is out to kill her, and if the Council ever discovers what she did in the Catskills, she's a goner... and so is Aiden. 

If that's not freaky enough, whenever Alex and Seth spend time "training"--which really is just Seth's code word for some up-close and personal one-on-one time--she ends up with another mark of the Apollyon, which brings her one step closer to Awakening ahead of schedule. Awesome. 

But as her birthday draws near, her entire world shatters with a startling revelation and she's caught between love and Fate. One will do anything to protect her. One has been lying to her since the beginning. Once the gods have revealed themselves, unleashing their wrath, lives will be irrevocably changed... and destroyed. 

Those left standing will discover if love is truly greater than Fate...
The Covenant series is now officially one of my all time favorite young adult series. I honestly wasn't sure Deity could be as awesome as Half Blood and Pure but I was (gladly) proven wrong. Deity is just as unputdownable as the first two books and the wait for Apollyon might just be the death of me.
Alex has really shaped up since the turmoil of Pure. She is back and better than ever. She is one of the most bad-ass heroines in YA these days and I adore that about her. She is such a strong character, even after everything she has gone through. There are a few times where she really does need someone to save her (and that someone may be a guy) but those times are balanced with all the times that she manages to save herself and even save others. She is the perfect balance of strong yet needy. She knows when she can't handle something on her own and she is willing to ask for help. That's the best part about her.
The boys are also back and better than ever. I mentioned in my Pure review that you get to see a different side of Aiden briefly in that book and you get to see more of his softer side in Deity. I was very pleased to find out more about his back story and what exactly happened to make him choose to be a Sentinel. He's a much deeper guy than he originally appears to be and you really get to see that in Deity. As for Seth, I like him more than I did in Pure but I'm pretty sure I can't be won over to his team at this point. All I can see is Alex with Aiden and I love them together. They have such a great relationship that is based on so much more than just desire. Seth is a very complex guy who has some demons of his own but he just does not seem right for Alex. I would however like him to get some sort of happy ending. Even though he royally pissed me off in Deity.
Things get really, really crazy in Deity. You have the Furies pissed off, you have the Gods getting pissed off, and then you just have some crazy people who want to take over the world. Well, maybe not the world (just yet) but it's only a matter of time before that becomes their goal. I was really surprised by a lot of the things that happened in Deity. Sure there were hints that made me see some things coming but I was still supremely shocked. Nobody is completely trustworthy and a lot of people aren't exactly who they say they are.
Overall, Deity is probably my favorite book in the Covenant series so far. Things just keep getting crazier and this series just keeps getting better. Fans of the first two books need to get a copy of this one as soon as possible.
Looking for more reviews of Deity?
Magical Urban Fantasy Reads' review
The Book Goddess' review