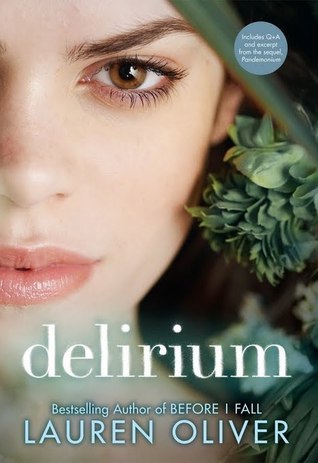 Delirium

by Lauren Oliver
Series: Delirium #1
Published by Harper Teen on February 1, 2011
Genres: Dystopian
Pages: 441
Format: Hardcover
Source: Bought
Buy on Amazon
Goodreads

Before scientists found the cure, people thought love was a good thing. They didn't understand that once love -- the deliria -- blooms in your blood, there is no escaping its hold. Things are different now. Scientists are able to eradicate love, and the governments demands that all citizens receive the cure upon turning eighteen. Lena Holoway has always looked forward to the day when she'll be cured. A life without love is a life without pain: safe, measured, predictable, and happy.

But with ninety-five days left until her treatment, Lena does the unthinkable: She falls in love.
Lauren Oliver has done it again. I fell in love with her writing when I read Before I Fall and I am in love all over again.  Delirium is a beautifully written dystopian that makes you question everything you know about love.  I can't wait to dive into the sequel.
Lena is very straight-laced at first.  She does what she is told, she doesn't question authority, and she looks forward to getting cured.  Alex is the exact opposite.  He hates the cure and he is willing to risk everything to fight against it.  As he and Lena become friends (or more than friends) she starts to understand why he questions the authority and her rebellious, brave side comes out.  It was awesome and I hope to see more of that Lena in the next book.  Hana and Grace were also two fabulous characters that I would have liked to know more about. Grace was such a brave little girl and I hope things turn out okay for her.  Hana was actually a lot braver than I expected and Lena was lucky to have her as a friend.  I really hope that is not the last we see of her in the books.
The plot was a little slow at the beginning but not slow enough for me to be bored.  It really picked up after Lena found out Alex's secret and after that I was thoroughly hooked.  Fair warning: you will not be able to put this book down!
Overall, Delirium is another fabulous book from Lauren Oliver and a wonderful start to this trilogy.  I can't wait to start reading the sequel.  If you haven't read this one already, do it now!
What others are saying about Delirium:
Wondrous Reads' review: "I read through the majority of Delirium while simultaneously asking myself if there was anything more beautiful than Lauren Oliver's words."
Fantastic Book Review's review: "I don't know how Oliver was able to pull it off but I'm just ecstatic that this book surpassed all of my expectations."
Bookieholics' review: "I strongly encourage you to read this book!"