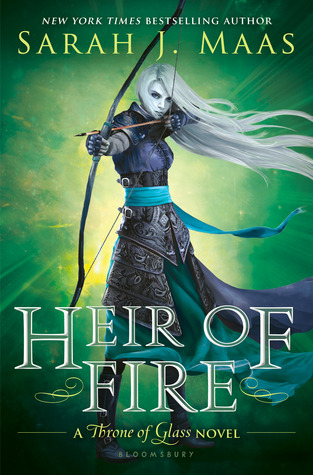 Heir of Fire (Throne of Glass, #3)

by Sarah J. Maas
Series: Throne of Glass #3
on September 2nd 2014
Genres: Fantasy
Pages: 562
Format: ARC
Source: Publisher
Buy on Amazon
Goodreads

She was the heir of ash and fire, and she would bow to no one.

Celaena Sardothien has survived deadly contests and shattering heartbreak—but at an unspeakable cost. Now she must travel to a new land to confront her darkest truth...a truth about her heritage that could change her life—and her future—forever.

Meanwhile, brutal and monstrous forces are gathering on the horizon, intent on enslaving her world. To defeat them, Celaena must find the strength to not only fight her inner demons but to battle the evil that is about to be unleashed.

The king's assassin takes on an even greater destiny and burns brighter than ever before in this follow-up to the New York Times bestselling Crown of Midnight.
Oh Sarah J. Maas, what have you done to me?  Heir of Fire has ruined me for all books in the near future.  This series just continues to amaze and impress me.  Heir of Fire takes things up another level for the Throne of Glass series and to be completely honest, I wasn't even sure that was possible.
I don't want to spoil things for anyone so if you haven't read Crown of Midnight, stop reading.  Seriously, go away now.  I will not be held responsible for any spoilers you might see in this review.
A few people finally know who Celaena really is.  Not many, and not all the key players, but some.  However, just because people finally know her identity as Aelin doesn't mean she's any closer to accepting it or the responsibilities that come with it.  In fact, she may be even farther away from accepting those responsibilities than she was before.  Being sent to Wendlyn to find out about the Wyrdkeys and learn to control her magic has pushed her over the edge.  Memories from her past are surfacing, some that she'd rather not remember.  In Heir of Fire she is really forced to take a look at her past and figure out what everything means for her future.  Controlling her magic is only the first step in the process of defeating the king.
I have loved Aelin from the start, even when she was being selfish and spoiled.  I didn't like that about her but I came to accept it and saw that she could be that way even while being a badass assassin who took shit from no one.  In Heir of Fire I came to love her even more.  She is nowhere near the same person she was when her journey began.  She's faced losses that would cripple some people and she's come out the other side with a very different outlook on life and her goals.  She's still very much focused on how things will end for her but she's learning to branch out to include some other people.  She is a very caring person no matter what front she puts on for people.  Even if she's not sure she wants to accept the responsibilities of a queen, she knows that she wants to help her people.  I appreciated that about her.
A lot of new characters were introduced in Heir of Fire and I'm not sure who I loved the most.  I will say that I didn't care all that much for Sorscha but I think that's because I didn't know a lot about her.  Her story didn't seem very fleshed out to me.  I wanted to know more about her background and why she did what she did.  Hers was the only story like that though.  Aedion, Rowan, Manon, Maeve and even some of the more minor characters had such depth to them.  I admit that I didn't really like many of the new characters at first but most of them grew on me.  Aedion was Aelin's cousin and after the downfall of their kingdom, he did whatever it took to keep his people safe.  Sure he was kind of a little shit but I came to understand his actions.  Rowan was pretty damn harsh to Aelin but his history was very complicated and he saw her as nothing but a young, spoiled girl who hadn't had to fight for anything in life.  Their relationship was twisted from start to finish but I loved it.  Not sure he's someone I want with Aelin but I could see how it might work between them.  As for Manon, she's a hard nut to crack.  I don't know if she's evil or not.  The witches roles in things are going to be very interesting.
I just want to briefly mention Chaol and Dorian because I can't possibly not mention them.  Chaol really bugged me this time around.  In Crown of Midnight I saw how he felt about certain aspects of Aelin's life but you really get to know his feelings in Heir of Fire.  I'll have to see how things play out with him and Aelin in the next book because if he doesn't switch things up soon, I'm not going to like him anymore.  As for Dorian, that poor boy has too much stuff to deal with.  My heart broke for him so many times and I don't know how I'm going to take things in the next book if something doesn't change in his situation.
The story is lengthy and twisted and totally nothing I ever saw coming.  The thing I appreciated most about Heir of Fire was the amount of history woven into things.  Sarah J. Maas doesn't just dump information on you, she manages to weave it all into the current storylines so it makes complete sense.  I would have felt so lost if I hadn't learned some info about the witches, the fae, and the Wyrdkeys.  That was one of the things I felt so clueless about in Crown of Midnight so I appreciated that things were finally explained some more.  Also, while a lot of things are explained in Heir of Fire, a lot of new things are introduced that left me with tons of questions.  I can see how this series is going to be six books.  There is just too much going on to condense these.
Overall, Heir of Fire is the best of the series, by far.  Sarah J. Maas has cemented her place on my list of favorite authors.  I cannot wait to continue this series.
What others are saying about Heir Of Fire:
Beauty and the Bookshelf's review: "While Heir of Fire definitely has all kinds of action, it's a looong book, and it's slower."
Writer of Wrongs' review: "Heir of Fire is that rare epic fantasy that is about people."
Great Imaginations' review: "It is miles and miles away from the boy-and-candy-crazy 'assassin' of Throne of Glass and is instead a story of a people rising up to face an oppressor, of a girl coming into her birthright, of hope and healing and fighting back."