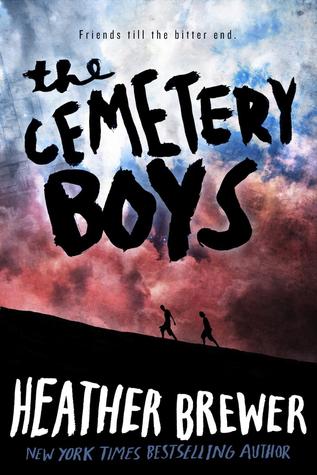 The Cemetery Boys

by Heather Brewer
Published by Harper Teen on March 30, 2015
Genres: Horror, Paranormal
Pages: 288
Format: ARC
Source: Publisher
Buy on Amazon
Goodreads

When Stephen is forced to move back to the nowhere town where his father grew up, he's already sure he's not going to like it. Spencer, Michigan, is like a town straight out of a Hitchcock movie, with old-fashioned people who see things only in black-and-white. But things start looking up when Stephen meets the mysterious twins Cara and Devon. They're total punks–hardly the kind of people Stephen's dad wants him hanging out with–but they're a breath of fresh air in this backward town. The only problem is, Cara and Devon don't always get along, and as Stephen forms a friendship with the charismatic Devon and something more with the troubled Cara, he starts to feel like he's getting caught in the middle of a conflict he doesn't fully understand. And as Devon's group of friends, who hang out in a cemetery they call The Playground, get up to increasingly reckless activities to pass the summer days, Stephen worries he may be in over his head.

Stephen's fears prove well-founded when he learns of Spencer's dark past. It seems the poor factory town has a history of "bad times," and many of the town's oldest residents attribute the bad times to creatures right out of an urban legend. The legend goes that the only way the town will prosper again is if someone makes a sacrifice to these nightmarish creatures. And while Stephen isn't one to believe in old stories, it seems Devon and his gang might put a lot of faith in them. Maybe even enough to kill for them.

Now, Stephen has to decide what he believes, where his allegiances lie, and who will really be his friend in the end.
The Cemetery Boys was my first Heather Brewer book but if it's any indication of her talents as a storyteller, it definitely won't be my last. The Cemetery Boys is an intriguing mix of horror and paranormal and it hooked me from the very start.
I honestly can't tell you what I expected from The Cemetery Boys. It's unlike anything I've read and the synopsis really didn't give me a clue what was going to happen. I think that's the perfect way to go into this one.  The prologue and first few chapters are intriguing enough to hook you and that's all you really need to keep going.  As I read I actually found myself getting more invested because I didn't know what was going to happen.  The story truly was unlike anything I've ever read.
Heather Brewer's writing is simple but gorgeous.  I found The Cemetery Boys to be an extremely easy book to read because the writing was straightforward but in no way dull.  Heather Brewer's descriptions were so well written that I had no trouble picturing everything in my head.  It helped set the atmosphere of the story and I adored that about the book.  I also adored that Heather Brewer managed to completely capture Stephen's voice in her writing.  I'd heard that she was good with male MC's but this was the first time I'd seen it for myself and I completely agree with everything I heard.
The town of Spencer was an awesome setting.  It felt like the town itself was a character.  There was so much mystery and history to the town.  Everyone who grew up there knew what was going on but Stephen was an outsider, finding out about everything for the first time.  The folklore and stories that he was told were beyond captivating and definitely pretty creepy.
Overall, The Cemetery Boys was my first foray into Heather Brewer's books but definitely not my last.  The writing, the setting, the characters, and everything else about the book added up to make a fantastic story that kept me on the edge of my seat.  Paranormal/horror fans need to check this one out.
What others are saying about The Cemetery Boys:
The Fandom.net's review: "If you're interested in "old time-y" horror films that are heavier on the world and the plot progression, but maybe not so much on character development and relationships, then The Cemetery Boys will be a treat for you."
Candace's Book Blog's review: "For people who enjoy books that are a bit different, off the beaten track and a little dark."
Giveaway!