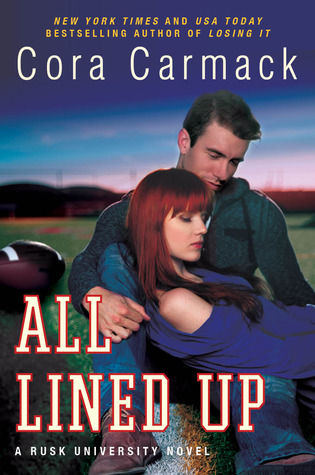 All Lined Up

by Cora Carmack
Series: Rusk University #1
Published by William Morrow on May 13, 2014
Genres: Contemporary
Pages: 320
Format: eARC
Source: Edelweiss, Publisher
Buy on Amazon
Goodreads

In Texas, two things are cherished above all else—football and gossip. My life has always been ruled by both.

Dallas Cole loathes football. That's what happens when you spend your whole childhood coming in second to a sport. College is her time to step out of the bleachers, and put the playing field (and the players) in her past.

But life doesn't always go as planned. As if going to the same college as her football star ex wasn't bad enough, her father, a Texas high school coaching phenom, has decided to make the jump to college ball… as the new head coach at Rusk University. Dallas finds herself in the shadows of her father and football all over again.

Carson McClain is determined to go from second-string quarterback to the starting line-up. He needs the scholarship and the future that football provides. But when a beautiful redhead literally falls into his life, his focus is more than tested. It's obliterated.

Dallas doesn't know Carson is on the team. Carson doesn't know that Dallas is his new coach's daughter.

And neither of them know how to walk away from the attraction they feel.
All Lined Up, the first book in the Rusk University series, is nothing short of spectacular.  Cora Carmack has a sure hit on her hands with this one.  It's the perfect blend of football, forbidden romance, and family bonding.
All Lined Up is the story of Dallas Cole, daughter to college football coach at Rusk University, and dancer extraordinaire.  She's tired of living in the shadow of her father's legacy and all she wanted from college was to get away from it all.  However, plans changed when her dad accepted the coaching job at Rusk, the same place Dallas is starting her freshman year.  Dallas is determined to leave the football life behind her but that's easier said than done when she starts falling for backup QB, Carter McClain.
All Lined Up has Cora Carmack's usual sense of humor and while Dallas isn't nearly as awkward as some of the characters in the Losing It trilogy, she does have some of the same qualities as those main characters which definitely helps her be easy to relate to.  She does seem a little cold at first but it's easy to see that she has been hurt in the past and does not have the best luck with guys.  With the help of her best friend, Stella (Dallas' total opposite), Dallas starts to open up and be a bit more optimistic about life in college and all it has to offer.  Stella is quite the funny character and I liked how she helped balance out Dallas.  Then there was Carter.  Carter was a great guy but he did sometimes seem a little too perfect, at least at first.  Don't let that turn you off though.  He does have his flaws, it just takes a little time for readers to see them.  That doesn't mean he's not a wonderful guy though.  I loved him.
The football aspect was fabulously done.  I have come to really love any young adult/new adult sports related books and All Lined Up is at the top of my list of recommendations for books in that category.  Cora Carmack does not overdo it with the sports or the lingo or anything like that.  I know some things about football but not enough to play the game.  Cora Carmack throws in just enough knowledge so that readers know what's going on but not enough to be overbearing.  It's the perfect balance.
The romance is just as steamy as I've come to expect from Cora Carmack.  I was greatly impressed with how realistic the relationship was and how mature both Dallas and Carter were about everything.  They do have an immediate attraction but luckily it's nothing that would be considered insta-love.  Dallas and Carter spend a lot of time together getting to know each other and what they want from each other before they take things to the next level.  It was refreshingly well done.
Overall, All Lined Up is the perfect read for new adult fans as well as fans of Cora Carmack.  It's a wonderful start to the Rusk University series and I can't wait for the next story.
GUEST POST
Hey y'all! I don't know about you guys but I am having a BLAST on this blog tour! Last week, Carson McClain stopped by 
Chick Lit News & Reviews
to share with us his favorite things about growing up in Texas. This week, I thought it would be interesting to see what Dallas Cole's top ten list looks like! Unfortunately, she doesn't have
quite
as much state pride as her boyfriend, so she decided to take her list in a different direction.
The Top 10 Worst Things About Growing Up In Texas
by Dallas Cole
10. Unpredictable weather
Some people think this is a good thing – don't like the weather? Wait a few hours, and it'll change! But I have a real issue with waking up to a beautiful, clear blue sky only to be dodging hailstones on the way to school and walking to class in a deluge, then trying to fall asleep to the dulcet tones of the tornado warning siren.
9.Crickets in the fall
Every fall, crickets show up in a plague of Biblical proportions. It's so bad I keep expecting first born sons to start dying at a moment's notice.
8. Pollen and allergy season
Spring in Texas means everything is covered in a fine layer of yellow dust and you are never NOT sneezing. Someone just hook me up to an IV of Claritin and leave me in bed with a Costco-sized case of Kleenex, and I'll see you guys never.
7. Mosquitoes
Ah, to be able to take a nice, peaceful walk through your neighborhood in the evening without the fear of contracting West Nile Virus.
Okay, now that I'm a little older, I know that there is actually art and culture to be found in the Lone Star State. But growing up in a small town in Texas, I was convinced that my home was where art came to die. I wished so badly to live in a big city like New York or Chicago, where I could see musicals and go to museums and attend a dance studio with more than one teacher.  Plus, some of our "artistic outlets" are rather suspect. Which leads me to…
5. Line dancing.
Nothing grinds my gears like seeing a bunch of people swagger back and forth in straight lines and call it dancing. I really do try to have an open mind when it comes to different styles of dance but LINE DANCING IS NOT DANCING. When I was in fifth grade, a girl in my class invited me to her birthday party. "Lots of fun and music," the invitation said. "Come prepared to dance!" I was really excited! I took my dance shoes, ready to dance my heart out. So you can imagine my disappointment when I walked into the party to find a bunch of 10-year-olds doing the "Boot Scootin' Boogie." Needless to say, I did not stay friends with the birthday girl.
4. Poor grammar
Please read the following phrases:
"I seen it."
"She done run off."
"We used to could do that."
"They was fixin' to."
Now please join me in clawing out our own eyes. Speaking of poor grammar…
Have you seen ever seen that TLC show about Honey Boo Boo and her family? What about Duck Dynasty? American Hoggers? They have to use freaking subtitles on those shows just so you regular people can understand their accents! Have you ever thought to yourself, "SURELY that's all scripted, or at the very least exaggerated. No people are actually like that in real life." Oh, yes. Some people are. And they have lived next door to me since I was three.
SERIOUSLY THOUGH. Texas only has two seasons: summer and Christmas, and Christmas is only slightly less sweltering than summer. From April to November, you might as well resign yourself to taking three showers a day because you'll be a sweaty, sticky mess before you even set foot outside. Getting in the car after it's been in the parking lot all day? You can expect third degree burns from the seatbelt, the steering wheel, the cracked faux leather seats, and literally EVERYTHING else.  And if you think YOU sunburn easily….let me tell you a little story about being a fair-skinned redhead and working at an outdoor summer camp. #lobster
1. Football.
UGH. Okay, you guys. Carson has been reading over my shoulder this whole time and is nagging me to mention at least ONE good thing about growing up in Texas. "You've lived here your whole life," he says, "and your life has not been terrible! There has to be something  nice you can say about our good ole' Lone Star State!"
*sigh* I guess.
One thing I DO love about Texas is the people. Texans, as much as I have made fun of them, are literally some of the nicest, most genuine people in the world. For a state so big, it really feels more like a small town – everywhere you go, you meet kind and generous people who treat you like family. We don't all ride horses to school, but your neighbor give you a lift in their pickup without a second thought. Good old country boys are actually pretty good, and sometimes you meet one who makes you feel beautiful and special and understood in ways you've never felt before. And then suddenly you're spending your summer nights in the bed of a pickup truck, staring at a sky full of stars and not caring that mosquitoes are buzzing around your head because he's holding your hand and everything is finally just…right.
GET THAT SMUG LOOK OFF YOUR FACE, CARSON.
GIVEAWAY (US Only!)

Cora Carmack is a twenty-something writer who likes to write about twenty-something characters. She's done a multitude of things in her life– boring jobs (like working retail), Fun jobs (like working in a theatre), stressful jobs (like teaching), and dream jobs (like writing). She enjoys placing her characters in the most awkward situations possible, and then trying to help them get a boyfriend out of it. Awkward people need love, too. Her first book, LOSING IT, is a New York Times and USA Today bestseller.
Website ** Twitter ** Facebook ** Author Goodreads ** Novel Goodreads