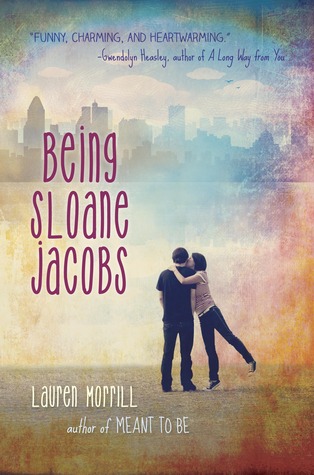 Being Sloane Jacobs

by Lauren Morrill
Published by Random House on January 7, 2014
Genres: Contemporary
Pages: 352
Format: ARC
Source: Publisher
Buy on Amazon
Goodreads

Meet Sloane Emily Jacobs: a seriously stressed-out figure-skater from Washington, D.C., who choked during junior nationals and isn't sure she's ready for a comeback. What she does know is that she'd give anything to escape the mass of misery that is her life.

Now meet Sloane Devon Jacobs, a spunky ice hockey player from Philly who's been suspended from her team for too many aggressive hip checks. Her punishment? Hockey camp, now, when she's playing the worst she's ever played. If she messes up? Her life will be over.

When the two Sloanes meet by chance in Montreal and decide to trade places for the summer, each girl thinks she's the lucky one: no strangers to judge or laugh at Sloane Emily, no scouts expecting Sloane Devon to be a hero. But it didn't occur to Sloane E. that while avoiding sequins and axels she might meet a hockey hottie—and Sloane D. never expected to run into a familiar (and very good-looking) face from home. It's not long before the Sloanes discover that convincing people you're someone else might be more difficult than being yourself.
Lauren Morrill got my attention with her debut novel, Meant To Be, but she captured my heart with her sophomore novel, Being Sloane Jacobs.  Being Sloane Jacobs is one of the best contemporary reads I've read in quite some time and I was seriously impressed with every aspect of it.
Being Sloane Jacobs starts off slow but that's not a bad thing.  A story as complex as this one takes some build up and let me tell you, it's worth it in the end.  Readers are introduced to Sloane Emily Jacobs and Sloane Devon Jacobs, two very different girls who just happen to share a name.  Sloane Emily is a figure skater who is beyond stressed out and wants nothing to do with figure skating.  She knows secrets about her family that could tear them apart and it's killing her not to share them.  She's alone in what she knows and she needs a break from it all.  Sloane Devon is a ice hockey player with a serious temper.  She's got her own family issues that she'd love to escape from but not in the form of mandatory hockey camp.  When the two Sloanes happen to run into each other the night before camp, they concoct a brilliant (and also slightly crazy) plan to switch places for the summer.
It may seem like it'd be confusing reading about two different characters with the same name but that's not the case at all.  Sloane Emily and Sloane Devon are very clearly two different people.  They have unique personalities and even if the chapter heading didn't tell you which POV you were reading, I feel like readers could still figure it out based on just their personalities.  They are both well-developed characters that are easy to like, but for different reasons.  Sloane Emily comes across as a little spoiled at first but she's quick to grow out of that.  Sloane Devon comes across as rather rude at first but she also learns a lot throughout the course of the book.  They both learn to rely on people, including each other.  It's not easy for either of them but they slowly build relationships not just with each other but with the people at their respective camps.
Both boys are seriously adorable and so easy to fall for.  The romance isn't deep in either case but it's just right for the story.  Both Sloane Devon and Sloane Emily aren't looking for romantic entanglements but when they meet the right guys, things just happen.  It was the perfect balance for the more serious aspects of the story.
The sports aspect was done amazingly well.  I know almost nothing about ice hockey and even less about figure skating but that didn't feel like a problem when reading Being Sloane Jacobs.  Lauren Morrill incorporates enough about each sport so that readers can get by but she doesn't bog things down with too much information.  Just like Miranda Kenneally does with her books, Lauren Morrill manages to perfectly balance sports and her subject matter.
Overall, Being Sloane Jacobs is a must read for contemporary fans.  I'd even recommend checking this one out before her debut, Meant To Be, although I suggest you get to that one eventually!
What others are saying about Being Sloane Jacobs:
Writer of Wrongs' review: "If you like cute contemporary, you can't miss Being Sloane Jacobs."
Books and Whimsy's review: "Truly, Being Sloane Jacobs was a really enjoyable story."
Book Lovers For Life's review: "Being Sloane Jacobs might not have killed me on the cuteness level as much as Meant to Be did, but this book was different and refreshing and so fun to read."