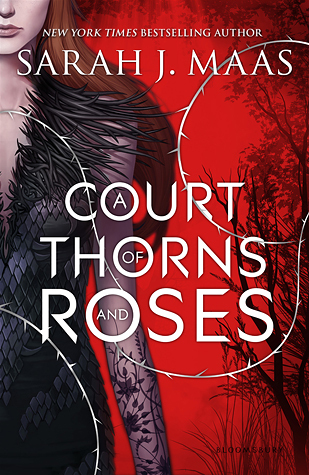 A Court of Thorns and Roses

by Sarah J. Maas
Series: A Court of Thorns and Roses #1
Published by Bloomsbury on May 5, 2015
Genres: Fantasy
Pages: 416
Format: ARC
Source: Publisher
Buy on Amazon
Goodreads

A thrilling, seductive new series from New York Times bestselling author Sarah J. Maas, blending Beauty and the Beast with faerie lore.

When nineteen-year-old huntress Feyre kills a wolf in the woods, a beast-like creature arrives to demand retribution for it. Dragged to a treacherous magical land she only knows about from legends, Feyre discovers that her captor is not an animal, but Tamlin—one of the lethal, immortal faeries who once ruled their world.

As she dwells on his estate, her feelings for Tamlin transform from icy hostility into a fiery passion that burns through every lie and warning she's been told about the beautiful, dangerous world of the Fae. But an ancient, wicked shadow grows over the faerie lands, and Feyre must find a way to stop it . . . or doom Tamlin—and his world—forever.

Perfect for fans of Kristin Cashore and George R. R. Martin, this first book in a sexy and action-packed new series is impossible to put down!
Where do I even begin with this review?  I've been putting off reading Sarah J. Maas' books because I worried there was no way they could live up to the hype.  I was definitely wrong about that.  A Court of Thorns and Roses surpassed my expectations.
Feyre's story hooked me from the start.  As a character, she was exactly what I wanted.  She's strong, fierce, independent, and a little cold.  However, she's also lonely, scared, and tired.  Everything she does is for her family, even though they never show their appreciation.  She made a promise to her mother that she would protect them and that's all that matters to her.  As for her family, I didn't care for them a lot but they did grow on me.  There is more to them than meets the eye.
I'm sure you're all wondering what I thought of Tamlin and I'll tell you, I definitely loved him.  He took some getting used to but once Feyre got to know him I completely fell for him.  His story was heartbreaking and yet he still managed to hold on to hope and love for the longest time.  It helped that he had Lucien through everything.  Lucien was his right hand man and he was probably my favorite character of all.  His banter with Feyre was hilarious.  And yes, while he may have made some mistakes regarding Feyre, watching their attitudes towards each other change was worth everything they went through.  Sarah J. Maas certainly has a way with characters, both the good and the evil.  Let me just tell you, her villains are dark and twisted.
The story has hints of Beauty and the Beast and I loved catching all the references.  A Court of Thorns and Roses is a story all it's own but the nods to the classic were wonderful.  The story is so intricate.  I have plans to read it again soon so I can catch some of the things I might have missed the first time around.  I truly loved how intricate everything was about the story and the curse.  It's a much deeper story than you would originally think.
As for the romance, I can't even begin to tell you how steamy the chemistry is between Feyre and Tamlin.  I loved their relationship and how it kind of snuck up on both of them.  This was not a case of instalove.  It also made things interesting that Feyre fell for Tamlin even though she didn't really know what he looked like.
Overall, A Court of Thorns and Roses is a must read for everyone.  I plan on forcing this one on all my fellow readers!
What others are saying about A Court of Thorns and Roses:
Midnight Book Girl's review: "You should read it, before I buy up all the copies in May and build a ginormous book fort out of them and pretend that it's Tamlin's estates."
Nose Graze's review: "I absolutely ADORED the faerie lore, politics, and history."
There Were Books Involved's review: "I think I could literally talk about this book all day."