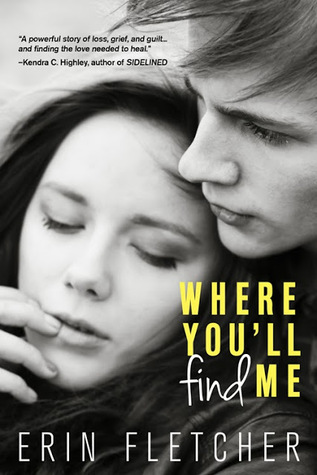 Where You'll Find Me

by Erin Fletcher
Published by Entangled TEEN on January 7, 2014
Genres: Contemporary
Pages: 211
Format: eARC
Source: Netgalley, Publisher
Buy on Amazon
Goodreads

When Hanley Helton discovers a boy living in her garage, she knows she should kick him out. But Nate is too charming to be dangerous. He just needs a place to get away, which Hanley understands. Her own escape methods (vodka, black hair dye, and pretending the past didn't happen) are more traditional, but who is she to judge?

Nate doesn't tell her why he's in her garage, and she doesn't tell him what she's running from. Soon, Hanley's trading her late-night escapades for all-night conversations and stolen kisses. But when Nate's recognized as the missing teen from the news, Hanley isn't sure which is worse: that she's harboring a fugitive, or that she's in love with one.
Where You'll Find Me is a fun, quick read that really didn't surprise me in any way. Don't get me wrong, I enjoyed it, but it's a rather predictable read that won't really shock anyone.
Hanley might be one of the dumbest protagonists I've ever read about. She finds a random teenage guy living in her garage and one of the first things that pops into her mind is how attractive he is. I'm not even kidding. I don't know about you guys but usually if there is some random person living in my garage, I think about calling the cops not about how pretty his eyes are. That's not Hanleys reaction. She kicks Nate out but when he shows back up she decides to let him stay since it's cold outside. No questions asked. This is even after he tells her that he can't stay in a homeless shelter because they check ids. That's kind of a red flag.
Nate is almost as bad. He's this mysterious guy who is holing up in Hanley's garage but he has money to buy food at the food court and clothes when Hanley wants to go on a date with him. How dumb is that? If I was homeless I would not be buying a new shirt for a date with the girl whose garage I'm living in. His reasoning for being homeless was not as bad as I expected and I actually found myself tearing up at his story. He was more fleshed out than Hanley and I appreciated that at least.
Hanley's back-story really got on my nerves. She lost someone close to her and she completely shut down. She didn't let anyone get close to her after that. That's understandable to me but then she got mad at people for not trying to get close to her. She was very hot and cold. And then she meets a random homeless guy and decides to let him get close to her and know things that no one else does? It was unrealistic to me.
Overall, this review really doesn't show any good things about Where You'll Find Me but there were a few. It really was a fun read once I got past my issues with Hanley and Nate. If you have some free time on a rainy day, give this one a chance.
What others are saying about Where You'll Find Me: