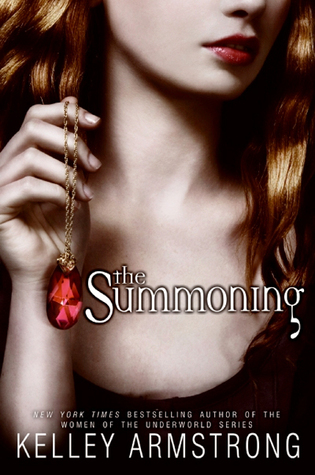 The Summoning

by Kelley Armstrong
Series: Darkest Powers #1
Published by Harper Teen on July 1, 2008
Pages: 390
Format: Hardcover
Source: Bought
Buy on Amazon
Goodreads

My name is Chloe Saunders and my life will never be the same again.

All I wanted was to make friends, meet boys, and keep on being ordinary. I don't even know what that means anymore. It all started on the day that I saw my first ghost - and the ghost saw me.

Now there are ghosts everywhere and they won't leave me alone. To top it all off, I somehow got myself locked up in Lyle House, a "special home" for troubled teens. Yet the home isn't what it seems. Don't tell anyone, but I think there might be more to my housemates than meets the eye. The question is, whose side are they on? it's up to me to figure out the dangerous secrets behind Lyle House...before its skeletons come back to haunt me.
I absolutely loved this book! I couldn't put it down. I read it in one day, almost in one sitting but sadly I had to go to school.
I think my favorite thing about this book is how Chloe is just like a normal teenager except that she can see and talk to dead people. Her mom died when she was young and her dad is always away on business so she is normally alone, except for a few friends and her aunt Lauren who tries to fill in for Chloe's mom. She usually keeps to herself so when things start to get weird she can't really tell anyone.
So, at the beginning Chloe is in a school for the arts and she is just like all the other people in her school, except a little bit of a late bloomer. On the same day that she gets her first period she also sees her first dead person or at least the first person that she knows is dead. After being chased through the school by a dead janitor, Chloe is sedated and sent to the hospital and told that she must spend at least two weeks in Lyle House, a group home for unstable teens.
Once in Lyle House, Chloe meets some interesting people such as Liz, Rae, Simon, and Derek. Derek is a little scary at first, always sneaking up on Chloe and accidentally throwing her across a room. Once she gets to know him, though, she realizes that he is just like her and can't control his powers. At first, Simon seems like he is just in the group home to stay with his brother, Derek, but once she starts talking to him she realizes that he is a supernatural also but his powers aren't as obvious as Chloe's and Derek's. Liz also seems to have some powers but she never realizes that she is controlling them. She is transferred shortly after Chloe arrives because instead of getting better she seemed to be getting worse. Rae also may have powers but it was really hard to tell. She was placed in the group home shortly after giving her mom first degree burns when she never had a lighter or anything else that could have caused them.
There are others in the group home, such as Tori and Peter, but Peter gets sent home after Chloe arrives and Tori is the group's resident witch and not in the supernatural way. Tori believes that because her mom is on the board of Lyle House she can do and get whatever she wants but Chloe interferes with her plans as soon as she arrives. Tori manages to get Chloe in many terrible situations, some potentially deadly, but it's only because she doesn't want her mom to be disappointed in her. Tori doesn't play a really big role in the story, all she really does is get everyone in trouble.
Chloe, Derek, Simon, and Rae discover Lyle Houses' secrets and realize that, maybe they aren't there because they are crazy but because of their powers. They realize that they need to escape and that they need to do it soon. Once out, though, things don't go exactly as planned. They are hunted down by the nurses and owners of Lyle House and chased through warehouses by guys with tranquilizer guns. Once the girls escape and find a safe place they think things are going to get better but none of them realized that someone close to them betrayed their trust.
Of course, I'm not gonna say who. That would give everything away. I truly loved this book and if you really want to know how it ends you will just have to find a copy to read. This book is first in a new series by Kelley Armstrong. The next book, The Awakening, will be out on April 28.