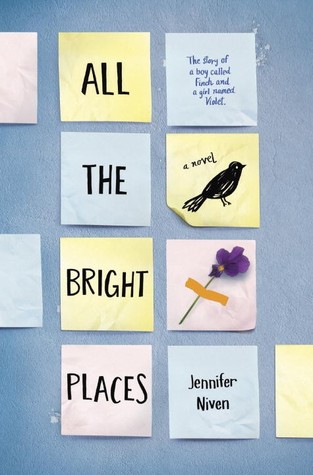 All The Bright Places

by Jennifer Niven
Published by Random House on January 6, 2015
Genres: Contemporary
Pages: 388
Format: Hardcover
Source: Publisher
Buy on Amazon
Goodreads


Theodore Finch is fascinated by death, and he constantly thinks of ways he might kill himself. But each time, something good, no matter how small, stops him.

Violet Markey lives for the future, counting the days until graduation, when she can escape her Indiana town and her aching grief in the wake of her sister's recent death.

When Finch and Violet meet on the ledge of the bell tower at school, it's unclear who saves whom. And when they pair up on a project to discover the "natural wonders" of their state, both Finch and Violet make more important discoveries: It's only with Violet that Finch can be himself—a weird, funny, live-out-loud guy who's not such a freak after all. And it's only with Finch that Violet can forget to count away the days and start living them. But as Violet's world grows, Finch's begins to shrink.

This is an intense, gripping novel perfect for fans of Jay Asher, Rainbow Rowell, John Green, Gayle Forman, and Jenny Downham from a talented new voice in YA, Jennifer Niven.
I'd heard that Jennifer Niven's young adult debut was a good one but I wasn't prepared for how much of a tearjerker it was.  All The Bright Places is my kind of book: contemporary, super sweet romance, lots of deeper issues that take root in your mind and don't let go.  Is it any surprise that I loved it?
Theodore Finch is an odd boy.  To be honest, I wasn't sure I was going to like him at first.  He was strange and kind of rude and just not very friendly.  Then there was Violet who was pretty much a mean girl.  She was pretty and popular and smart and funny.  Basically she was the opposite of Finch.  However, they did have something in common.  They were both rather preoccupied with the thought of death.  Theodore was a very depressed boy who liked to think of interesting ways to die.  He not only thought of ways that he might die, he also researched the statistics surrounding those types of deaths.  He was kind of morbid.  As for Violet, her sister was killed in a car accident and ever since then she hasn't been able to stop thinking about death.  She refuses to get in a car, she doesn't think much about moving on with her life, and she can't help but feel that her sister's death was her fault.  That connection brought her and Finch together but there was so much more that kept them together.
The story focuses a lot on depression.  It's pretty clear from the start that Finch suffers from depression and maybe some other condition but that isn't made known.  It's impossible not to feel for him.  However, it's not depression or death that bring Finch and Violet closer together.  It's the crazy project their teacher gives them that does it.  They have to visit wonders of their state and chronicle their time at each place.  They are only required to visit 3 places but Finch and Violet take it even further, attempting to visit every wonder of Indiana that they can find.  It's this project that brings Violet out of her shell and brings her and Theodore together.
The story itself isn't exactly fast-paced and that is probably my only issue with All The Bright Places.  I found my attention being drawn by other things and it took me a while to really feel invested in the story.   I will admit that the first 50 to 75 pages are a little boring and almost made me give up completely.  I'm definitely glad I didn't but the thought did cross my mind.
Overall, All The Bright Places has me eager to read more young adult novels from Jennifer Niven.  I found myself laughing and crying all throughout this book and it definitely left me smiling at the end.
What others are saying about All The Bright Places:
My Shelf Confessions' review: "Although I didn't fall madly in love and have my heart smashed to a million pieces (maintaining my titanium heart reputation), I can completely understand why this book has been so impactful and emotional for so many people."
That's What She Read's review: "Not only does All the Bright Places tear one's heart strings, but it also raises awareness of mental illness and the importance of taking action if a loved one refuses to seek help."
The Book Addict's Guide's review: "If there's anything you need to know about ALL THE BRIGHT PLACES, it's that it's a book that will stick with you long after you've finished reading."