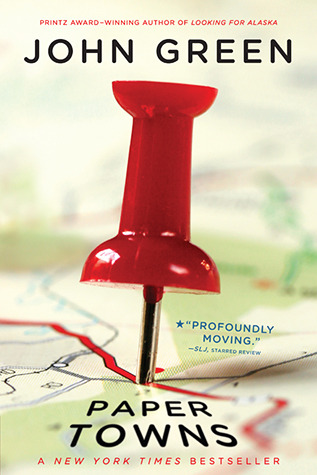 Paper Towns
by
John Green
Published by
Speak
on September 22, 2009
Genres:
Contemporary
Pages:
305
Format:
Paperback
Source:
Bought
Buy on Amazon
Goodreads
Two-time Printz Medalist John Green's New York Times bestseller, now in paperback!

Quentin Jacobsen has spent a lifetime loving the magnificently adventurous Margo Roth Spiegelman from afar. So when she cracks open a window and climbs back into his life — dressed like a ninja and summoning him for an ingenious campaign of revenge — he follows.

After their all-nighter ends and a new day breaks, Q arrives at school to discover that Margo, always an enigma, has now become a mystery. But Q soon learns that there are clues — and they're for him. Urged down a disconnected path, the closer he gets, the less Q sees of the girl he thought he knew.
John Green is an author that continues to amaze me.  He is an astoundingly talented writer and Paper Towns does a fantastic job of showcasing that talent.  Quentin is your average nerd with a crush on his neighbor, Margo Roth Spieglman.  He becomes more than average when the day after late night escapades with Margo, she runs away. Quentin is certain she wants him to find her and so he, along with his two best friends, Radar and Ben, set out to follow the clues Margo has left behind.  Along the way they are joined by some surprising new friends and Quentin is forced to face the truth about himself as well as the girl he thought he knew.
Quentin is a mix of many things.  He is part nerd, part hero, part hormonal teenage boy.  All throughout the book he is changing though.  Margo may not have meant to but she changed Quentin in so many ways.  There were times when he was selfish and rude to his friends but he always fixed his mistakes and learned from them.  His friends, Radar and Ben, were hilarious. They were both band geeks and they definitely had some geeky quirks.  Radar was obsessed with updating his website, Omnictionary.  Ben was obsessed with girls, or as he called them, honey bunnies.  Along the way the boys are joined by Lacey who is not as flaky and superficial as they first believe.  Margo Roth Speiglman is a mystery for most of the book but she was a very interesting character.  This cast of characers is one of the best I have ever read.
The story is told in three parts and each part is interesting in its own way.  One thing each part has in common, however, is that they are hilarious.  This story is very deep at times but very funny always.  John Green has a way with humor.  A book that could be dull and dark is livened up by the humor he infuses it with. This book is laugh out loud funny.
Overall, Paper Towns is a new favorite of mine.  I wasn't sure anything could compare to Looking For Alaska but this book definitely came close.  I highly recommend it!
Looking for more reviews of Paper Towns?