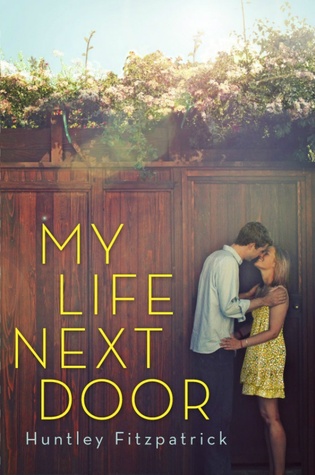 My Life Next Door
by
Huntley Fitzpatrick
Published by
Penguin
on June 14th 2012
Genres:
Contemporary
Pages:
432
Format:
ARC
Source:
Publisher
Buy on Amazon
Goodreads
A gorgeous debut about family, friendship, first romance, and how to be true to one person you love without betraying another"One thing my mother never knew, and would disapprove of most of all, was that I watched the Garretts. All the time."The Garretts are everything the Reeds are not. Loud, numerous, messy, affectionate. And every day from her balcony perch, seventeen-year-old Samantha Reed wishes she was one of them . . . until one summer evening, Jase Garrett climbs her terrace and changes everything. As the two fall fiercely in love, Jase's family makes Samantha one of their own. Then in an instant, the bottom drops out of her world and she is suddenly faced with an impossible decision. Which perfect family will save her? Or is it time she saved herself?A dreamy summer read, full of characters who stay with you long after the story is over.
Huntley Fitzpatrick's debut novel is a knockout.  If this book is any indication, she is going to be one fantastic author!
My Life Next Door is a romance.  It has one of the most beautiful, real love stories I have ever read (think Anna and Lola.)  That, however, is only a small part of the story.  The bigger part is a story of growing up, a story of friendship, and a story of family, both Samantha's and Jase Garrett's.
Samantha's family may seem like the perfect one, in the beginning, but it quickly proves different.  The Garretts are the real perfect family although they are better classified as perfectly imperfect.  There are two relatively young parents and eight children from the ages of twenty down to one.  Mr. and Mrs. Garrett, Joel, Alice, Jase, Harry, Duff, Andy, Patsy, and George are all wonderful characters.  George is a sweet, inquisitive little boy.  Patsy is the cutest little girl with an obsession with boobs.  Joel is a good bad-boy.  Mr. and Mrs. Garrett are fabulous parents and very much in love.  Harry and Duff are two funny little boys.  Andy is a 14-year-old girl going through trials and tribulations with her first boyfriend.
Then there is Jase.  Sweet, sensitive, sexy, wonderful Jase.  There really are no flaws with this boy.  As for the honorary members of the Garrett family, Samantha and Tim, they are just as great.  Samantha is shy ans scared of going outside her comfort zone but she wants to explore her feelings for Jase (and his wacky family.)  Tim has more problems than anyone should possibly have but he has some surprisingly wise moments.  The rest of the cast of characters, Grace Reed, Tracy Reed, Flip, Clay, and Nan were minor characters but they were still remarkably well-developed and thought out.
The story starts off as a typical coming-of-age story but it doesn't stay that way.  It is a surprisingly fast-paced contemporary novel and while the real shocker doesn't come until close to the end that doesn't mean the story isn't gripping from the start.  Readers will be captivated by the romantic dynamics, the family dynamics, and towards the end, by the tragedy that rocks both worlds.
Overall, My Life Next Door is one of the best contemporaries I have ever read, right up there with Sarah Dessen, Susane Colasanti, and Stephanie Perkins.  If I could give this book a higher rating, I would.
Looking for more reviews of My Life Next Door?