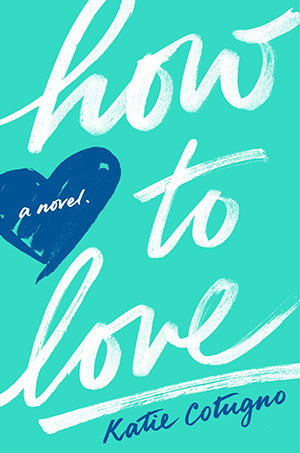 How To Love
by
Katie Cotugno
Published by
Harper Teen
on October 1, 2013
Genres:
Contemporary
Pages:
389
Format:
ARC
Source:
BEA
,
Publisher
Buy on Amazon
Goodreads
Before:
Reena Montero has loved Sawyer LeGrande for as long as she can remember: as natural as breathing, as endless as time. But he's never seemed to notice that Reena even exists until one day, impossibly, he does. Reena and Sawyer fall in messy, complicated love. But then Sawyer disappears from their humid Florida town without a word, leaving a devastated—and pregnant—Reena behind.

After:
Almost three years have passed, and there's a new love in Reena's life: her daughter, Hannah. Reena's gotten used to being without Sawyer, and she's finally getting the hang of this strange, unexpected life. But just as swiftly and suddenly as he disappeared, Sawyer turns up again. Reena doesn't want anything to do with him, though she'd be lying if she said Sawyer's being back wasn't stirring something in her. After everything that's happened, can Reena really let herself love Sawyer LeGrande again?

In this breathtaking debut, Katie Cotugno weaves together the story of one couple falling in love—twice.
How To Love is by far one of the best debuts I've ever read. I truly had no idea what to expect from Katie Cotugno and I was completely blown away.
How To Love almost fits into the new adult category rather than young adult. It's a much more mature story than normal YA books and I loved it. Younger readers can certainly get away with reading it (although there is drug use/alcohol use/sexual content) and older readers such as myself can truly enjoy it. While Sawyer and Reena are both in their teens, they are forced to deal with some much more adult issues and it was refreshing to read such a realistic story. There's college, teen pregnancy, drug abuse, and so much more packed between these pages. Katie Cotugno tackles everything head on and doesn't shy away from the tough stuff. Everything is handled so well, especially the sexual content, and I would love to see more stories like this one in the future.
The story is told from Reena's point-of-view alone but I really felt like I got to know Sawyer just as well I got to know Reena. Reena is a smart girl. She's funny (in a very sarcastic way), she's kind, and she's definitely a good girl. Sawyer is the opposite of Reena in almost every way. He's definitely a bad boy. He's got drug problems, he's in a band, he's living in a run down place with multiple other guys, and he's not good for Reena. That doesn't stop the two from falling completely in love with each other. This was definitely a case of opposites attracting. Personally I thought Reena and Sawyer were perfect together, at least the second time around.
The story is told in alternating chapters; before and after. It's easy to see how their relationship isn't really all that healthy in the before chapters but both of them have changed drastically since then. They've matured (especially Reena, having to raise a baby), they're smarter, and they can see the truth of their relationship. The story is a very unique one and it completely drew me in. There were secrets between Sawyer and Reena that I just wanted to know and I couldn't stop reading until I knew every last detail. I was captivated from beginning to end.
The last thing I want to mention about How To Love is the writing. It's gorgeous. I don't know any other way to describe it. Even if the story had completely sucked I would have kept reading just for the writing. However, seeing as the story was amazing, the writing was just the icing on the cake.
Overall, just go read How To Love. Please. Even if you're not a contemporary fan, I really think everyone can find something to love about this one. I am highly anticipating Katie Cotugno's next book.
What others have to say about How To Love:
Nick's Book Blog's review: "With How to Love by Katie Cotugno, I found a simple yet beautiful story that made me really feel for the characters."
Enticed By Books' review: "Anyway, How To Love was a well written book, but my disinterest in the characters and the storyline along with the poor execution of that said story was what made this book a thumbs down read for me."
Swept Away by Books' review: "All in all, How To Love wasn't exactly what I imagined myself getting into, but I did love it all the same!"
About The AUTHOR
Katie Cotugno went to Catholic school for thirteen years which makes her, as an adult, both extremely superstitious and prone to crushes on boys wearing blazers. She routinely finds herself talking about the romantic endeavors of characters on TV shows as if they actually exist in the world.
Katie is a Pushcart Prize nominee whose work has appeared in The Broadkill Review, The Apalachee Review, and Argestes, as well as on Nerve.com. Her first novel, HOW TO LOVE, is due out from Balzer + Bray on October 1st, 2013.
The great loves of Katie's life include child's pose, her little sister, and mozzarella and honey sandwiches. She lives in Boston (and in sin) with her boyfriend, Tom.