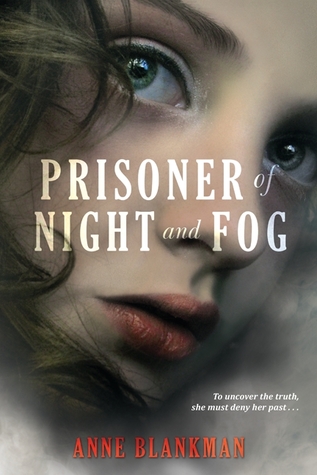 Prisoner of Night and Fog
by
Anne Blankman
Series:
Prisoner of Night and Fog #1
Published by
Harper Teen
on April 22, 2014
Pages:
401
Format:
Hardcover
Source:
Publisher
Buy on Amazon
Goodreads
In 1930s Munich, danger lurks behind dark corners, and secrets are buried deep within the city. But Gretchen Müller, who grew up in the National Socialist Party under the wing of her "uncle" Dolf, has been shielded from that side of society ever since her father traded his life for Dolf's, and Gretchen is his favorite, his pet.

Uncle Dolf is none other than Adolf Hitler. And Gretchen follows his every command.

Until she meets a fearless and handsome young Jewish reporter named Daniel Cohen. Gretchen should despise Daniel, yet she can't stop herself from listening to his story: that her father, the adored Nazi martyr, was actually murdered by an unknown comrade. She also can't help the fierce attraction brewing between them, despite everything she's been taught to believe about Jews.

As Gretchen investigates the very people she's always considered friends, she must decide where her loyalties lie. Will she choose the safety of her former life as a Nazi darling, or will she dare to dig up the truth—even if it could get her and Daniel killed?
I'm not sure where to even start with Prisoner of Night and Fog.  This is definitely going to be one of those reviews that can't even come close to doing justice to how amazing the book is.  Anne Blankman's debut novel has me eager to check out anything else she ever plans to write.
First off, this is the most unique historical fiction novel I've ever read.  Never once did I think about how Hitler's followers thought of him.  Gretchen, the main character, is a family friend of Hitler and she never once thought he was planning to exterminate the Jews.  She believed him when he said he wanted them out of Germany but that he was just going to relocate them.  One of the points made throughout the book is that Hitler was a gifted public speaker and people wanted to believe in him.  They wanted a strong leader and they saw that in him through the persona he showed when public speaking.  Nobody saw the bad side of Hitler until it was too late.  Throughout Prisoner of Night and Fog, readers get to see both the bad and the good sides of Hitler and it really changes the way you think of him as well as the people that followed him so blindly.  Not all of them were evil people, they were just strung along like Gretchen.
Gretchen was a strong girl but she had poor odds of coming out alive.  Her father was supposedly a martyr who sacrificed his life for Hitlers.  Her mom was incapable of doing anything to protect one child that might hurt another.  Her brother was a psychopath who cared nothing at all for Gretchen and really wanted her out of the picture.  Like I said, not good odds.  Then she meets Daniel Cohen, a Jewish reporter who tells her that there was more to her father's death than she'd been told.  And her odds for surviving only got worse from there.  People didn't get to dig into Hitler's past and get away with it.  Especially not while living under the roof of a psychopath who believed everything Hitler said.  Gretchen was beyond brave and sometimes I think her bravery actually crossed the line into stupidity but she was willing to do anything to discover the truth.  Her father was a good man who loved her dearly and he deserved to be remembered not just as the martyr who saved Hitler's life but as the man he was.
Gretchen and Daniel's relationship was surprisingly realistic.  You have to remember that Gretchen was raised believing Jews were not only bad but really a whole different race of people, not even quite human according to Hitler.   At first she wanted nothing to do with Daniel and it took her quite some time to even be willing to deal with him.  After that it still took a lot for her to see him as a person and not only a person, but a good guy.  From there things grew between them and it was a really sweet relationship.  It was easy to see why they would be brought together and why they would be attracted to each other.  Like I said, Gretchen was brave, smart, and ambitious.  Daniel was also supremely brave as well as smart and he and Gretchen had a lot of common goals.
The pacing is a little slow but you have to expect that with a historical fiction novel with such a heavy subject matter.  And when I say slow I do not mean boring.  The story was never boring.  There is just a lot of information to digest and so it does take some time to get through Prisoner of Night and Fog.  That's not a bad thing at all though because this is a book that you will want to savor.  The writing, the content, the characters, every last piece comes together to make for one fascinating story that will captivate readers from beginning to end.
Overall, Prisoner of Night and Fog is one of the best historical fiction novels I've ever read, right up there with Code Name Verity.  I can't recommend this book enough!  Get a copy as soon as possible!
What others are saying about Prisoner of Night and Fog:
Gypsy Reviews' review: "I will throw this book in your face and get you to read it."
Nick's Book Blog's review: "Rich in its history and complex in its story-telling, this is a book that is going to appeal to many YA historical fans."
Writer of Wrongs' review: "Please read this book. Please please please. It's so compelling and intense and chock full of history."