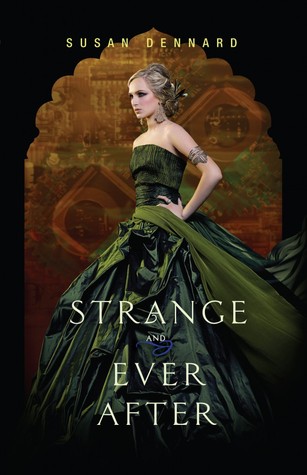 Strange and Ever After
by
Susan Dennard
Series:
Something Strange and Deadly #3
Published by
Harper Teen
on July 22, 2014
Genres:
Historical Fiction
Pages:
400
Format:
ARC
Source:
Publisher
Buy on Amazon
Goodreads
In the conclusion to the trilogy that Publishers Weekly called "a roaring—and addictive—gothic world," Eleanor Fitt must control her growing power, face her feelings for Daniel, and confront the evil necromancer Marcus...all before it's too late.

He took her brother, he took her mother, and now, Marcus has taken her good friend Jie. With more determination than ever to bring this sinister man to justice, Eleanor heads to the hot desert streets of nineteenth-century Egypt in hopes of ending this nightmare. But in addition to her increasingly tense relationships with Daniel, Joseph, and her demon, Oliver, Eleanor must also deal with her former friend, Allison, who has curiously entangled herself in Eleanor's mission.

With the rising dead chomping at her every move and Jie's life hanging in the balance, Eleanor is convinced that her black magic will see her through to the bitter end. But there will be a price. Though she and the Spirit Hunters have weathered every battle thus far, there will be consequences to suffer this time—the effects of which will be irreversible. And when it's over, only some will be able to live a strange and ever after.
This review is going to be extremely hard for me to write.  My feelings for Strange and Ever After are all over the place!  I loved it, I hated it, I couldn't stop reading it.
Strange and Ever After picks up immediately after the ending of A Darkness Strange and Lovely.  Eleanor, Daniel, Joseph, and Oliver are heading to Marseille to chase down Marcus and get Jie back.  They aren't sure what Marcus wants with Jie but they know she's been compelled by him and the only way to break the spell is to kill Marcus.  However, Marcus is always one step ahead of them and he's much more powerful than even Eleanor, Joseph, and Oliver combined.  Strange and Ever After takes the crew on a journey through Europe that tests their magic and their loyalties more than any of the other books.
Eleanor really bothered me in Strange and Ever After.  I loved her in Something Strange and Deadly, lost some respect for her in A Darkness Strange and Lovely and really couldn't care less for her in Strange and Ever After.  Her magic has completely taken over her mind and she can't even see what it's done to her.  She cares so much about her magic that she has lost sight of her friendships and relationships.  She has pushed everyone away and she constantly blames others for it, especially Oliver.  Oliver really confused me in Strange and Ever After.  I liked him but didn't completely trust him in A Darkness Strange and Lovely but this time around I didn't even really like him all that much.  He had a  horrible temper and he treated Eleanor pretty badly.  Sure, sometimes she deserved it but I felt like he could have taken a different approach.  However, he did some things throughout the book that made up for that and by the end I really did like him.  Daniel really shined in Strange and Ever After. He grew so much throughout the course of the trilogy.  I can't even put into words how amazing he was.  He was caring, smart, kind, and brave.  He has got to be one of the best love interests I've ever read about.
The story wasn't quite as fast-paced as the first two books but it was definitely never boring.  Marcus had lots of surprises in store for Eleanor, Oliver, and the Spirit-Hunters.  I truly never knew what he was going to do next.  However, sometimes I was a little skeptical about how he knew to be one step ahead of them all the time.  How did he possibly know what they were going to do next when sometimes they didn't even know what they were going to do next?
The ending completely broke me.  I'm not even kidding.  There were not enough tissues in my house for the ending of this book.  I know some readers didn't believe the ending was completely necessary but I really don't see how it could have worked out any other way.  I'm still torn up about the way things worked out but I can totally appreciate how great this ending was.
Overall, Strange and Ever After is a wonderful conclusion to the Something Strange and Deadly series.  Susan Dennard has definitely gained a fan and I can't wait to see what she has in store for readers next.
What others are saying about Strange and Ever After:
Lili's Reflections' review: "I will continue to recommend this series to anyone who wants to read it, and if you haven't already started it yet now is the time to do so because book three is officially out! "
Scott Reads It's review: " SAEA is less about zombies and isn't as Gothic as the previous novels, but it does have more poignant, heartbreaking moments and so much character development."
Finding Bliss In Books' review: "That aside, Strange and Ever After is an entirely satisfactory conclusion to the Something Strange and Deadly trilogy (or, as I've penned it, the Ke$ha zombie trilogy)."