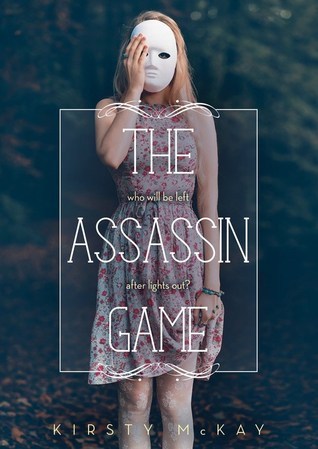 The Assassin Game
by
Kirsty McKay
Published by
Sourcebooks Fire
on August 2nd 2016
Genres:
Suspense
Pages:
325
Format:
eARC
Source:
Netgalley
Buy on Amazon
Goodreads
Who will be left after lights out?

At Cate's isolated boarding school, Killer is more than a game- it's an elite secret society. Members must avoid being "Killed" during a series of thrilling pranks, and only the Game Master knows who the "Killer" is. When Cate's finally invited to join the Assassins' Guild, she know it's her ticket to finally feeling like she belongs.

But when the game becomes all too real, the school threatens to shut it down. Cate will do anything to keep playing and save the Guild. But can she find the real assassin before she's the next target?
With a title like this one, I had some pretty high hopes.  The Assassin Game is my first time reading a book by Kirsty McKay and while it wasn't all I had hoped for, it was enough to get me to check out some of her other books.
Pros:
Mystery: There were times when I totally thought about setting aside The Assassin Game and adding it to my short list of DNFs.  I admit, there were times when I was just plain bored.  Things moved at a slow pace with this one.  However, I could not stop reading this one because there were so many things I still needed to know.  Yes, there was a killer in the game but there was also someone attempting to kill people in real life too.  And let me tell you, I didn't have a clue who either killer was.  These kids were pretty ruthless and they each wanted to be the last one standing at the end of the Game.  They were willing to do a lot of stuff in the name of the Game and it looked like someone was taking the Game a little too far.
Cons:
Pacing: I already mentioned this briefly but the pace of this one was ridiculously slow.  I honestly felt like nothing happened for the first half of the book.  The synopsis tells you about someone taking the Game a bit literally and trying to kill people but the first attempt doesn't even happen until halfway through the book.  The first half just focuses on Cate and her many romantic entanglements as well as the progression of the Game.  I was extremely bored with that.  Which brings me to my next point.
Characters: I was not impressed with any of these characters.  Cate, for instance, was immature and obsessed with the Game.  I think she saw it as a way of fitting in which was something she had always been trying to achieve.  She was the kid that wasn't really supposed to be at Umfraville but since her family owned the island she got to attend the school.  Everyone there was snobby and rich and she didn't feel like she belonged with any of them except maybe Marcia and Daniel.  Also, she may have considered those two friends but they were anything but.  Marcia was self-centered and totally not there for Cate at all.  Daniel, on the other hand, was completely obsessed with her.  He was creepy.  As for Alex and Vaughn, Cate's other possible love interests, I wasn't really impressed with either of them.  Alex was the popular guy who was a total player but for some reason, Cate never wanted him.  They hooked up once and that was the end for her.  Vaughn was her childhood friend who reappeared after years and they immediately fell for each other.  I didn't really have any problems with the two of them together but I didn't feel any sort of investment in their relationship.
Writing: I wasn't terribly upset with the writing in The Assassin Game but I was far from impressed with it.  It was very stilted and straightforward.  I felt like I was being told everything outright rather than having things shown to me through descriptions.  It was a really dull way of telling this story.
Overall, The Assassin Game may not have a lot of pros going for it but it was an entertaining enough story for me.  It's not something I'll ever re-read but it was a good mystery for a rainy day.
Overall reaction:
What others are saying about The Assassin Game:
Flavia the Bibliophile's review: "McKay did an exceptional job at keeping me guessing until the very end, and I commend her for that!"
The Librarian Who Doesn't Say Shhh!'s review: "Overall, this is a case of a fun book that would NEVER happen in real life."
Novelgossip's review: "I had hoped that there would be some originality in this one, but alas I was left disappointed and irritated."