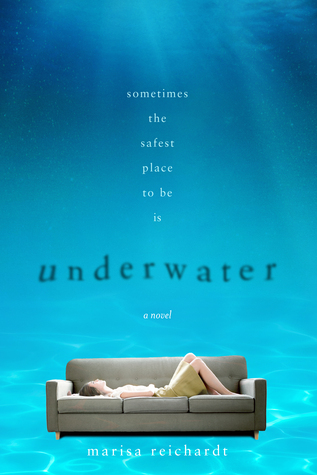 Underwater
by
Marisa Reichardt
Published by
Farrar
,
Straus
on January 12th 2016
Genres:
Contemporary
Pages:
288
Format:
eARC
Source:
Netgalley
Buy on Amazon
Goodreads
Morgan didn't mean to do anything wrong that day. Actually, she meant to do something right. But her kind act inadvertently played a role in a deadly tragedy. In order to move on, Morgan must learn to forgive—first someone who did something that might be unforgivable, and then, herself.

But Morgan can't move on. She can't even move beyond the front door of the apartment she shares with her mother and little brother. Morgan feels like she's underwater, unable to surface. Unable to see her friends. Unable to go to school.

When it seems Morgan can't hold her breath any longer, a new boy moves in next door. Evan reminds her of the salty ocean air and the rush she used to get from swimming. He might be just what she needs to help her reconnect with the world outside.

Underwater is a powerful, hopeful debut novel about redemption, recovery, and finding the strength it takes to face your past and move on.
I've always been the queen of contemporary but it's not often that I find a contemporary novel that I adore.  That was the case with Underwater.  Marisa Reichardt's debut novel completely blew me away.
I'm always a big fan of books that are fast paced and have a lot going on.  Underwater is not one of those books but it's got a lot of other things going for it.  Marisa Reichardt's writing is phenomenal.  It seemed a little wordy at first but once I got reading, I saw how it made everything come together.  The writing style just worked for this story.  Marisa Reichardt's writing managed to capture exactly how Morgan felt after the school shooting and convey them perfectly for readers.  It took very little time for me to feel like I could understand exactly what Morgan was going through and how she was feeling.  It takes real talent to make that happen in such a short period of time.
The events that led to Morgan's agoraphobia (I think that's pretty much what she had) were a mystery for most of the book.  Readers can tell early on in the book what happened at the school that day but it's not so obvious why it affected Morgan the way it did.  While other survivors embraced life and decided to take chances, Morgan did the opposite.  She shut herself away from everything that could hurt her, including other people.  Evan, her new neighbor, forces Morgan to reevaluate her choices and actually consider coming out of her apartment for the first time in months.  Evan was a total sweetheart.  He didn't know what Morgan was like before the shooting but he quickly came to care for her, even with her quirks.  And honestly, Morgan's quirks made me like her even more.  Sure I felt for her from the start but I only grew to really like her once I started to understand exactly what she thought about herself, the shooting, the shooter, and what her future might hold.
To some, Underwater might seem a little slow and a little lacking in action.  I did mention earlier that that is normally what draws me too a book but I didn't mind the pace or the lack of action in Underwater.  There was some mystery (not much) which did keep my interest piqued but it was the characters that really kept me reading this one.  Like I said earlier, I felt emotionally connected to Morgan from the start so I never once considered putting Underwater down because of it's pace.  I do think it's a good thing to know going in though that Underwater is not necessarily a book you are going to be able to power through and read in an hour or two.  Take your time with this one.  It's worth it.
I also really loved all the family dynamics in Underwater.  Morgan lived with her mom and little brother and they were all very close.  Her mom was extremely understanding about Morgan's condition and her little brother was adorable.  Evan was also very close to his mom and aunt.  There wasn't a ton of interaction shown between them but it was easy to see how they cared for each other and helped each other out.
Overall, Underwater is a fantastic debut that I can't help but recommend.  I look forward to seeing what Marisa Reichardt does next.
What others are saying about Underwater:
My Friends Are Fiction's review: "What a beautifully developed and executed debut Underwater was."
bookstacked's review: "Everything about this story was amazing: the writing, the theme, the dialogue, but one of my favorite things about this story was the underlying message. The message that having hope is one of the best things in the world."