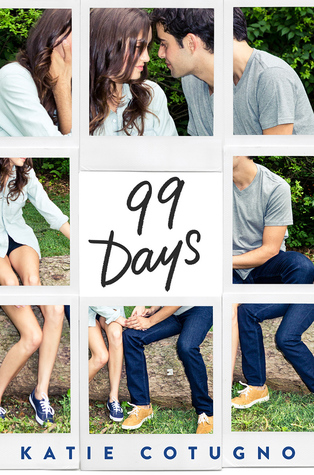 99 Days
by
Katie Cotugno
Published by
Balzer + Bray
on April 21st 2015
Genres:
Contemporary
Pages:
384
Format:
Hardcover
Goodreads
Day 1: Julia Donnelly eggs my house my first night back in Star Lake, and that's how I know everyone still remembers everything—how I destroyed my relationship with Patrick the night everything happened with his brother, Gabe. How I wrecked their whole family. Now I'm serving out my summer like a jail sentence: Just ninety-nine days till I can leave for college, and be done.

Day 4: A nasty note on my windshield makes it clear Julia isn't finished. I'm expecting a fight when someone taps me on the shoulder, but it's just Gabe, home from college and actually happy to see me. "For what it's worth, Molly Barlow," he says, "I'm really glad you're back."

Day 12: Gabe got me to come to this party, and I'm actually having fun. I think he's about to kiss me—and that's when I see Patrick. My Patrick, who's supposed to be clear across the country. My Patrick, who's never going to forgive me.
I can't even begin to tell you how much I wanted to love this book.  Katie Cotugno's debut novel, How To Love, is on my favorites shelf.  I adored everything about it.  I put off reading 99 Days because I was saving it for a day when I needed a really good book to read.  I definitely set my expectations way too high for this one.
Pros:
Pacing: I read this book in just over two sittings.  While there may not have been many things I liked about it, at least I was able to power through it.  It's an extremely quick read that is paced just right.  The book takes place over 99 days (I bet you never would have guessed that) and those 99 days seem to fly by for both the reader and Molly.  A lot happens throughout the course of the book and I never felt like the story got too slow or lagged.  I also liked that the flashbacks Molly had from her relationship with Patrick were woven into the story.  I feel like it would have bogged things down if the chapters alternated between past and present so I appreciated that.
Romance: The romance between Molly and Gabe was super cute and I loved Gabe.  Yes, even at the end when things came out about him, I still liked him.  I felt like he was good to Molly and good for her.  He wasn't always an angel but he was never really a bad person.  He was sweet and super hung up on Molly.  He made her happy and he looked out for her.  The start to their relationship may not have been the best thing but I didn't think it was all that bad.  I wanted to see him and Molly get a happy ending together.
Characters: 99 Days had a pretty even mix of characters that I loved and characters that I hated.  Gabe was on the list right in the middle since I liked him but had issues with him too.  My list of characters that I loved contained two awesome females, Imogen and Tess.  Imogen was Molly's friend before everything went down and she would have been Molly's friend after, if Molly hadn't run away.  She wasn't willing to just overlook things when Molly came back but she was willing to move past them and let Molly earn her forgiveness.  Then there was Tess.  Tess was Patrick's new girlfriend.  She didn't know Molly before everything happened but she wasn't willing to judge her without getting to know her.  They became friends and Tess was always there for Molly.  Tess and Imogen knew what it was to be a good friend.
Cons:
Characters: The list of characters that I hated makes me want to rant.  Let's start with Molly.  That girl had some serious issues.  She was so extremely selfish.  I don't blame her for what she did with Gabe when Patrick broke up with her.  Patrick broke up with her!  They were not together when she slept with his brother.  Yeah, it wasn't really classy but as I read more about Molly and Gabe, I could see that they really cared for each other and I could get over that.  It was everything else Molly did that bothered me.  She was jealous of Tess even though she was the one who ruined things with Patrick and was dating his brother.  She clearly wanted what she couldn't have and she was willing to do whatever it took to get it.  She threw Tess under the bus and took what she wanted from Patrick.  She didn't even think about Gabe while she screwed him over and yet she claimed to be falling in love with him.  Then there was Patrick.  He was a jerk and I honestly couldn't see what Molly ever saw in him.  He treated her like crap and she kept crawling back to him.  Oh and don't let me forget Patrick's twin, Julia.  Julia was supposedly Molly's best friend but she was the first to slut shame Molly for what she did with Gabe.  I understand that family comes first but that's no reason to act like Julia did.  And then there is Molly's mom who was the one who outed Molly's night with Gabe, not just to Patrick but to the whole world.  Her mom wrote a bestselling novel based on Molly's love life torn between Patrick and Gabe.  Then she went and told everyone that it was based on her daughter.  Who does that?
Cheating: I can sometimes look past cheating in books and still be able to enjoy the book but not this time around.  Molly had no sense of morals when it came to cheating.  She just kept doing it, over and over again.  Sure she'd feel bad about it later but that didn't do anybody any good then.  Too little, too late.  I don't want to get into this too much because it is very much a spoiler but just know that it was really bad.
Ending: The ending is very similar to Katie Cotugno's debut, How To Love, in that it's up in the air.  It's pretty much up to the reader to decide what comes next for Molly and the boys in her life.  I wanted some concrete answers and I know Katie Cotugno has said there is always the possibility of a sequel but that's not what I want.  I just want to know exactly how things ended for Molly and all of the Donnellys and it doesn't look like I'll get that.
Overall, 99 Days is not one I recommend reading.  Check out Katie Cotugno's debut, How To Love, for sure, but let's just pretend like this one didn't happen.  I'm waiting on her third book so I can see if it will redeem her!
Overall reaction:
What others are saying about 99 Days:
The Perpetual Page-Turner's review: "While on the surface this book might just seem like a romance with a love triangle between two brothers but it is SO much more than that."
The Novel Hermit's review: "99 Days seemed promising at first, but with a snap of a finger, the story turned boring and didn't really resolve anything."
Reading Lark's review: "Overall, I loved watching Molly work through the ghosts of her past and start to make plans for a better future."