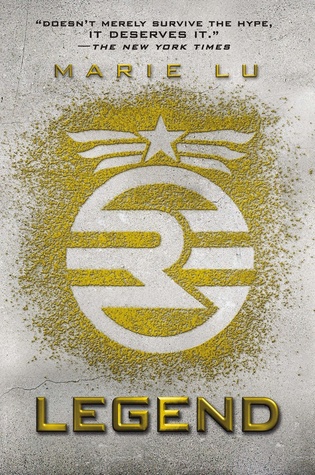 Legend (Legend, #1)
by
Marie Lu
Series:
Legend #1
Published by
Speak
on April 16, 2013
Genres:
Dystopian
Pages:
305
Format:
Paperback
Source:
Bought
Buy on Amazon
Goodreads
What was once the western United States is now home to the Republic, a nation perpetually at war with its neighbors.

Born into an elite family in one of the Republic's wealthiest districts, fifteen-year-old June is a prodigy being groomed for success in the Republic's highest military circles.

Born into the slums, fifteen-year-old Day is the country's most wanted criminal. But his motives may not be as malicious as they seem.

From very different worlds, June and Day have no reason to cross paths—until the day June's brother, Metias, is murdered and Day becomes the prime suspect.

Caught in the ultimate game of cat and mouse, Day is in a race for his family's survival, while June seeks to avenge Metias's death. But in a shocking turn of events, the two uncover the truth of what has really brought them together, and the sinister lengths their country will go to keep its secrets.
my thoughts:
Why, oh why, did I wait so freaking long to read this book?  I've had Legend on my TBR since I first heard about it, back in 2011.  I picked up an ARC at BEA that year with big plans to read it as soon as possible.  Clearly, that didn't happen.  Here I am, 8 years later, finally giving this series a chance.
Admittedly, dystopian has never been my genre of choice.  I love The Hunger Games and the Divergent series back when they first came out but the genre became a bit overdone and I lost interest since it didn't like there were many new story ideas within the genre.  Legend proved to me that the dystopian genre still has something new to offer.
When first diving into Legend, I won't lie, I found it a little slow and it failed to capture my attention until about 50 pages in.  I also can't deny that I couldn't stop comparing it to previous dystopian novels that I have read.  The one big thing that kept reminding me of The Hunger Games were the sibling relationships.  Legend focuses heavily on the bond between siblings, both with June and Metias as well as Day with his brothers, John and Eden.  However, that's where the similarities end.  Legend presents a fresh new story full of characters that you will be hard pressed not to root for.
I've got to give props to Marie Lu.  While Legend is a young adult novel, it's one that could easily be read by adults.  Marie Lu does not shy away from brutality and she's not afraid to kill off a character or two.  At times, I found the story to be rather grim but there was always enough of a ray of hope to keep me reading.
The characters were extremely well-rounded and there was a good mix of both good guys and villains (and some characters who were hard to classify one way or another.)  I do hope to see more from some of these characters in books two and three, especially some backstory for some of them.  Day and June both have fascinating stories but both of them could use some fleshing out when it comes to their backstories and that of their family's.  I also can't wait to see more interactions between Day and June.  The two of them really bring out the best in each other and the development of their relationship is something I look forward to reading about in Prodigy and Champion.
There were times when I found that there didn't seem to be much going on in the story but I still never found myself losing interest.  Once I made it past those first 50 pages, I don't think I ever really set the book down until I finished it.  While it could be slightly predictable at times, I found the story to be highly enjoyable and completely gripping.
Overall, Legend really does deserve all the praise that's been piled on over the years.  If, like me, you still have it collecting dust on your shelf or hanging out unread on your TBR, move it up the list.  Legend may just make a dystopian fan out of me all over again.
"Each day means a new twenty-four hours. Each day means everything's possible again. You live in the moment, you die in the moment, you take it all one day at a time."
― Marie Lu, Legend
what others are saying about Legend:
UnderTheBookCover's review: "I am invested in June and Day's story now, and am quite curious as to how it all continues with Prodigy, and then concludes in Champion."
My Thoughts Literally!'s review: "If you are a big dystopia fan check this series out. It was a good start to a series and I am excited to see where things go."
if you liked Legend, you might also like:
Have you read Legend?  If so, what did you think of it? Let me know your thoughts in the comments and check back soon to see what I think of Prodigy and Champion!