Freeks
by
Amanda Hocking
Published by
St. Martin's Griffin
on January 3, 2017
Genres:
Paranormal
Pages:
400
Format:
Hardcover
Source:
Bought
Buy on Amazon
Goodreads
In a world of magical visions and pyrokinesis, Mara just wants to have a normal life. But is that possible?

Mara has become used to the extraordinary. Roaming from place to place with Gideon Davorin's Traveling Carnival, she longs for an ordinary life where no one has the ability to levitate or predict the future.

She gets her chance when the struggling sideshow sets up camp in the small town of Caudry and she meets a gorgeous local guy named Gabe. But before long, Mara realizes there's a dark presence lurking in the town that's threatening the lives of her friends. She has seven days to take control of a power she didn't know she had in order to save everyone she cares about—and change the future forever.
my thoughts:
I admit, I was a bit skeptical when starting Freeks.  I've never read anything by Amanda Hocking and pretty much everything I've heard about her books is kind of middle of the road; not great but not terrible.  I knew I eventually wanted to give her books a try though and Freeks seemed like a pretty unique story which is something I've been looking for lately.  I must say, I was pleasantly surprised by the story, the writing, and the fun vibe I got from the book.
First off, something slightly odd about Freeks is that it's actually set in 1987.  I never would have guessed that until I started reading but I understand why it's set during that time period.  You don't really see many (or any?) travelling carnivals (or freak shows) these days and it would be a little hard to find any part of the story believable if it was set in current times.  It took a little while for that to sink in with me but I eventually settled in to the time period and the story itself.
I have to confess, I'm one of those romance nuts who really loves when the romance of a story takes a front seat.  That was definitely the case with Gabe and Mara's romance and it's one of the things I liked most about Freeks.  Their romance was a little quick to take off but Mara was only in town for 10 days so it's not like they had the time to drag it out.  Both had their secrets and their relationship faced some challenges but I couldn't help but want them to end up together.  Gabe was a sweetheart and Mara deserved that, for sure.
The carnival/freak show setting was, by far, one of the best things about Freeks.  When it comes to books about circuses, I'm pretty sure the only other ones I know of are The Night Circus and Caraval.  It's a setting I find fascinating but one that isn't utilized frequently.  (That may be part of the reason I like it so much.)  A good portion of the book was set at the carnival and Mara goes into great detail about what it's like to grow up and move around with the circus.
I will say, there were a couple drawbacks.  The werewolf aspect was pretty obvious (there is a wolf on the cover of the book).  It didn't quite play out like I expected it to but I did see some of the plot twists coming.  Then there was the whole Blossom story line which was also a little ridiculous to me.  The story starts off with Blossom missing, they focus on that for about 30 pages, and then she's pretty much forgotten about for the rest of the book.  Last, Mara had some serious hangups and she may have been just as prejudiced against normal people as they seemed to be against the "freaks."  She came across as a bit of a hypocrite when she refused to give "townies" a chance because of bad experiences with some in the past.
Overall, Freeks is the perfect rainy day read if you're looking for some escapism.  While there isn't a whole lot of depth to the story, it's a quick read that will have you hooked from the start.  I plan to check out more from Amanda Hocking in the future.
"It's not the amount of time that makes something real. It's what happens in that time," he said solemnly. "Each moment is weighted against the next, and the moments I've spent with you have been more meaningful than almost all the ones I've had before it."

-Amanda Hocking, Freeks
what others are saying about Freeks:
Wonderless Reviews' review: "I started Freeks yesterday and finished it this morning. I literally couldn't put it down."
The Plot Bunny's review: "There were things I really liked, and some things I really did not, but it all balanced out."
if you liked Freeks, you might also like: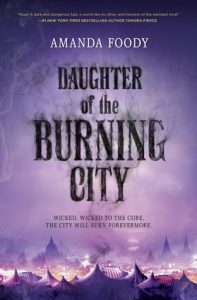 Have you read Freeks or any of Amanda Hocking's other books?  If so, what did you think?
Save this review for later!