The Shadows Between Us
by
Tricia Levenseller
Published by
Feiwel and Friends
on February 25, 2020
Genres:
Fantasy
Pages:
326
Format:
eARC
Source:
Edelweiss
Buy on Amazon
Goodreads
Alessandra is tired of being overlooked, but she has a plan to gain power:
1) Woo the Shadow King.
2) Marry him.
3) Kill him and take his kingdom for herself.

No one knows the extent of the freshly crowned Shadow King's power. Some say he can command the shadows that swirl around him to do his bidding. Others say they speak to him, whispering the thoughts of his enemies. Regardless, Alessandra knows what she deserves, and she's going to do everything within her power to get it.

But Alessandra's not the only one trying to kill the king. As attempts on his life are made, she finds herself trying to keep him alive long enough for him to make her his queen—all while struggling not to lose her heart. After all, who better for a Shadow King than a cunning, villainous queen?
my thoughts:
If you read no further than this first line, just know this; you should really read The Shadows Between Us.  If you want to know all the myriad reasons I adored this book, keep reading!
"They've never found the body of the first and only boy who broke my heart. And they never will."

-Tricia Levenseller, The Shadows Between Us
Tricia Levenseller knows how to hook a reader.  With a line like that, the stage is set.  I don't know that a first line has ever fit a book more perfectly.  It's quite the introduction to main character, Alessandra.  It's been a while since I've loved a character as much as I loved her.  She's feisty, confident, smart, and extremely cunning.  She has a plan and she is willing to do whatever it takes to get the outcome she wants.  However, she's definitely met her match when it comes to Kallias, the Shadow King.  He's determined to root out his parent's murderer and he won't let anything distract him.  The two of them are determined to use each other for their own purposes and obviously things don't go quite as either of them planned.
I adored the romance between Alessandra and Kallias.  It was subtle and swoon-worthy and the best kind of slow burn a reader could ask for.  The Shadows Between Us was described as a Slytherin romance and I could not agree more.  These two are both looking out for themselves and I loved watching the romance creep up on them.
One of the things that surprised me about The Shadows Between Us was the prominent feminist message and how it played out so well with the story and characters.  Alessandra did not strike me as the type to worry about female friendships but she proved me wrong.  One of the first things she set out to do at the palace was build strong relationships with other females in residence.  At first I thought she was just doing it to blend in but she truly valued the relationships she built and she used those friendships to help spread messages about equality between men and women, both in and out of the bedroom.  This book was surprising sex positive and I felt that the messages surrounding sex as well as equality really worked with the story without feeling forced.
I will admit, I felt the ending was a little bit rushed and a little choppy but it's a minor complaint.  I had a huge grin on my face when I closed the book and that's all that really mattered to me.  I wouldn't say no to more of Alessandra and Kallias but as a standalone, it's perfect.
Overall, The Shadows Between Us has made me eager for more from Tricia Levenseller.  With a cast of characters you'll hate to love (yes, I said that right, they are kind of evil) but love anyway, a romance that will have you blushing, and a story that will have you guessing until the very last page, I dare you to stop reading this once you've picked it up.
"I think that when you care enough for someone, you reach a point where it's far more painful not to have him at all than to have him and risk losing him. You realize the risk is worth it. Because happiness, however short-lived, is always worth it."

-Tricia Levenseller, The Shadows Between Us
what others are saying about The Shadows Between Us:
NovelKnight's review: "Trust me when I say that this isn't a book you want to wait to read."
The Nerd Daily's review: "It's dark, but still romantic…I cannot wait to see where Tricia Levenseller takes us next."
if you liked The Shadows Between Us, you might also like: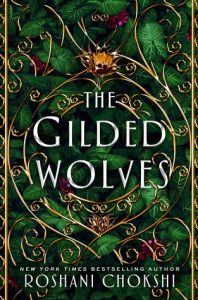 Have you read anything by Tricia Levenseller? If so, what's been your favorite so far?
Save this review for later!