Hitting Shelves Today is a feature on Kait Rose, highlighting new book releases for the week.
*Amazon links are affiliates links*
By the Book by Amanda Sellet
If you're interested in finding out more about By the Book, check out the ongoing blog tour!
As a devotee of classic novels, Mary Porter-Malcolm knows all about Mistakes That Have Been Made, especially by impressionable young women. So when a girl at her new high school nearly succumbs to the wiles of a notorious cad, Mary starts compiling the Scoundrel Survival Guide, a rundown of literary types to be avoided at all costs.

Unfortunately, Mary is better at dishing out advice than taking it—and the number one bad boy on her list is terribly debonair. As her best intentions go up in flames, Mary discovers life doesn't follow the same rules as fiction. If she wants a happy ending IRL, she'll have to write it herself.
Catherine House by Elisabeth Thomas
Intrigued? Library Love Fest's Podcast has a conversation with Elisabeth Thomas!
You are in the house and the house is in the woods.
You are in the house and the house is in you . . .

Catherine House is a school of higher learning like no other. Hidden deep in the woods of rural Pennsylvania, this crucible of reformist liberal arts study with its experimental curriculum, wildly selective admissions policy, and formidable endowment, has produced some of the world's best minds: prize-winning authors, artists, inventors, Supreme Court justices, presidents. For those lucky few selected, tuition, room, and board are free. But acceptance comes with a price. Students are required to give the House three years—summers included—completely removed from the outside world. Family, friends, television, music, even their clothing must be left behind. In return, the school promises its graduates a future of sublime power and prestige, and that they can become anything or anyone they desire.

Among this year's incoming class is Ines, who expects to trade blurry nights of parties, pills, cruel friends, and dangerous men for rigorous intellectual discipline—only to discover an environment of sanctioned revelry. The school's enigmatic director, Viktória, encourages the students to explore, to expand their minds, to find themselves and their place within the formidable black iron gates of Catherine.

For Ines, Catherine is the closest thing to a home she's ever had, and her serious, timid roommate, Baby, soon becomes an unlikely friend. Yet the House's strange protocols make this refuge, with its worn velvet and weathered leather, feel increasingly like a gilded prison. And when Baby's obsessive desire for acceptance ends in tragedy, Ines begins to suspect that the school—in all its shabby splendor, hallowed history, advanced theories, and controlled decadence—might be hiding a dangerous agenda that is connected to a secretive, tightly knit group of students selected to study its most promising and mysterious curriculum.
Dear Universe by Florence Gonsalves
Dear Universe,
Sorry for interrupting you with my presence, but I'm wondering if you could have my back for once. I recently had a massive chin zit and a period stain you could see from space and my boyfriend kissed someone else and also my dad is dying faster than usual. If you could show up during my last English class so I can graduate and like achieve my potential or something, I'd appreciate it.

It's senior year, and Chamomile Myles has whiplash from traveling between her two universes: school (the relentless countdown to prom, torturous college applications, and the mindless march toward an uncertain future) and home, where she wrestles a slow, bitter battle with her father's terminal illness. Enter Brendan, a man-bun- and tutu-wearing hospital volunteer with a penchant for absurdity, who strides boldly between her worlds—and helps her open up a new road between them.
House of Dragons by Jessica Cluess
Five royal houses will hear the call to compete in the Trial for the dragon throne. A liar, a soldier, a servant, a thief, and a murderer will answer it. Who will win?

When the Emperor dies, the five royal houses of Etrusia attend the Call, where one of their own will be selected to compete for the throne. It is always the oldest child, the one who has been preparing for years to compete in the Trial. But this year is different. This year, these five outcasts will answer the call….

THE LIAR: Emilia must hide her dark magic or be put to death.

THE SOLDIER: Lucian is a warrior who has sworn to never lift a sword again.

THE SERVANT: Vespir is a dragon trainer whose skills alone will keep her in the game.

THE THIEF: Ajax knows that nothing is free–he must take what he wants.

THE MURDERER: Hyperia was born to rule and will stop at nothing to take her throne.
Say Yes Summer by Lindsey Roth Culli
My review for this one will be posted tomorrow so make sure to come back and check it out!
The perfect book to kick off summer! For as long as Rachel Brooks can remember, she's had capital-G Goals: straight As, academic scholarship, college of her dreams. And it's all paid off–after years of following the rules and acing every exam, Rachel is graduating at the top of her class and ready to celebrate by . . . doing absolutely nothing. Because Rachel Brooks has spent most of high school saying no. No to dances, no to parties, and most especially, no to boys.

Now, for the first time in her life, there's nothing stopping Rachel from having a little fun–nothing, that is, except herself. So when she stumbles on a beat up old self-help book–A SEASON OF YES!–a crazy idea pops into her head: What if she just said yes to . . . everything?

And so begins a summer of yes. Yes to new experiences and big mistakes, yes to rekindled friendships and unexpected romances, yes to seeing the world in a whole new way. This book is a fresh and fun take on the coming-of-age novel that explores the quintessential themes of growing up: taking risks, making mistakes, and, of course, love. And who knows? Lindsey Roth Culli's hilarious and heartwarming debut may just inspire your own SAY YES SUMMER.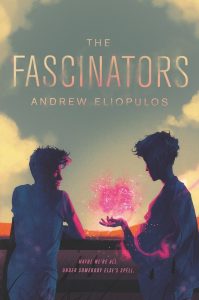 The Fascinators by Andrew Eliopulos
Living in a small town where magic is frowned upon, Sam needs his friends James and Delia—and their time together in their school's magic club—to see him through to graduation.

But as soon as senior year starts, little cracks in their group begin to show. Sam may or may not be in love with James. Delia is growing more frustrated with their amateur magic club. And James reveals that he got mixed up with some sketchy magickers over the summer, putting a target on all their backs.

With so many fault lines threatening to derail his hopes for the year, Sam is forced to face the fact that the very love of magic that brought his group together is now tearing them apart—and there are some problems that no amount of magic can fix.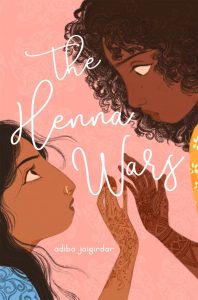 The Henna Wars by Adiba Jaigirdar
When Nishat comes out to her parents, they say she can be anyone she wants—as long as she isn't herself. Because Muslim girls aren't lesbians. Nishat doesn't want to hide who she is, but she also doesn't want to lose her relationship with her family. And her life only gets harder once a childhood friend walks back into her life.

Flávia is beautiful and charismatic and Nishat falls for her instantly. But when a school competition invites students to create their own businesses, both Flávia and Nishat choose to do henna, even though Flávia is appropriating Nishat's culture. Amidst sabotage and school stress, their lives get more tangled—but Nishat can't quite get rid of her crush on Flávia, and realizes there might be more to her than she realized.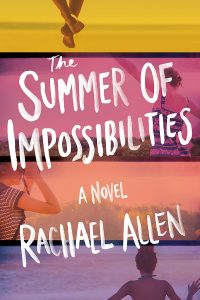 The Summer of Impossibilities by Rachael Allen
Skyler, Ellie, Scarlett and Amelia Grace are forced to spend the summer at the lake house where their moms became best friends.

One can't wait. One would rather gnaw off her own arm than hang out with a bunch of strangers just so their moms can drink too much wine and sing Journey two o'clock in the morning. Two are sisters. Three are currently feuding with their mothers.

One almost sets her crush on fire with a flaming marshmallow. Two steal the boat for a midnight joyride that goes horribly, awkwardly wrong. All of them are hiding something.

One falls in love with a boy she thought she despised. Two fall in love with each other. None of them are the same at the end of the summer.
Are you planning on picking up any of these new releases?  Let me know in the comments which one you are most excited for!!
Save this list for later!