Hitting Shelves Today is a feature on Kait Rose, highlighting new book releases for the week.
*Amazon links are affiliates links*
Camp by L.C. Rosen
Books Are Magic is hosting a live event to celebrate the release of Camp! Find all the details on their Facebook event page.
From the author of the acclaimed Jack of Hearts (and other parts) comes a sweet and sharp screwball comedy that critiques the culture of toxic masculinity within the queer community.

Sixteen-year-old Randy Kapplehoff loves spending the summer at Camp Outland, a camp for queer teens. It's where he met his best friends. It's where he takes to the stage in the big musical. And it's where he fell for Hudson Aaronson-Lim – who's only into straight-acting guys and barely knows not-at-all-straight-acting Randy even exists.

This year, though, it's going to be different. Randy has reinvented himself as 'Del' – buff, masculine, and on the market. Even if it means giving up show tunes, nail polish, and his unicorn bedsheets, he's determined to get Hudson to fall for him.

But as he and Hudson grow closer, Randy has to ask himself how much is he willing to change for love. And is it really love anyway, if Hudson doesn't know who he truly is?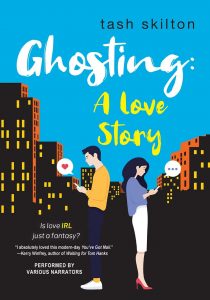 Ghosting: A Love Story by Tash Skilton
Want to know more about this one? Check out The Infinite Limits of Love's review.
LEAVE IT TO THE EXPERTS–TO BREAK ALL THE RULES

Online Dating Ghostwriting Rules to Live by

Dumped by his fiancée, not only is Miles couch-surfing across New York City, but downsizing has forced him to set up shop at a café. Also, he no longer believes in love. Not a good look in his line of work . . .

Do not present a "perfect" image. No one will trust it. Nor should they.

Zoey's eccentric L.A. boss sent her packing to New York to "grow." But beneath her chill Cali demeanor, Zoey's terrified to venture beyond the café across the street . . .

Think of your quirks–such as cosplaying B-movies from the 1980s–as a "Future Honesty." Save these as a reward only for those who prove worthy.

The only thing Miles and Zoey share is their daily battle for Café Crudité's last day-old biscotti. They don't know they're both ghostwriting "authentic" client profiles for rival online dating services. Nope, they have absolutely nothing in common. . . . Until they meet anonymously online, texting on the clock . . .

Never remind the client you're their Cyrano. Once you've attracted a good match, let the client take over ASAP.

Soon, with their clients headed for dating disaster, both Miles and Zoey's jobs are at stake. And once they find out their lines have crossed, will their love connection be the real thing–or vanish into the ether?
Parachutes by Kelly Yang
Want to know more about this one? Check out The Nerd Daily's review!
Speak enters the world of Gossip Girl in this modern immigrant story from New York Times bestselling author Kelly Yang about two girls navigating wealth, power, friendship, and trauma.

They're called parachutes: teenagers dropped off to live in private homes and study in the US while their wealthy parents remain in Asia. Claire Wang never thought she'd be one of them, until her parents pluck her from her privileged life in Shanghai and enroll her at a high school in California. Suddenly she finds herself living in a stranger's house, with no one to tell her what to do for the first time in her life. She soon embraces her newfound freedom, especially when the hottest and most eligible parachute, Jay, asks her out.

Dani De La Cruz, Claire's new host sister, couldn't be less thrilled that her mom rented out a room to Claire. An academic and debate-team star, Dani is determined to earn her way into Yale, even if it means competing with privileged kids who are buying their way to the top. When her debate coach starts working with her privately, Dani's game plan veers unexpectedly off course.

Desperately trying to avoid each other under the same roof, Dani and Claire find themselves on a collision course, intertwining in deeper and more complicated ways, as they grapple with life-altering experiences. Award-winning author Kelly Yang weaves together an unforgettable modern immigrant story about love, trauma, family, corruption, and the power of speaking out.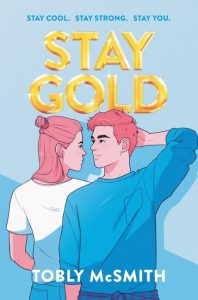 Stay Gold by Tobly McSmith
Want to know more about this one? Check out Kinzie Things' review!
Debut author Tobly McSmith delivers a coming-of-age teen love story about a transgender boy who's going stealth at his new Texas high school and a cisgender girl who is drawn to him, even as she's counting down the days until graduation. Perfect for fans of David Levithan, Becky Albertalli, and Jenny Han.

Pony just wants to fly under the radar during senior year. Tired from all the attention he got at his old school after coming out as transgender, he's looking for a fresh start at Hillcrest High. But it's hard to live your best life when the threat of exposure lurks down every hallway and in every bathroom.

Georgia is beginning to think there's more to life than cheerleading. She plans on keeping a low profile until graduation…which is why she promised herself that dating was officially a no-go this year.

Then, on the very first day of school, the new guy and the cheerleader lock eyes. How is Pony supposed to stay stealth when he wants to get close to a girl like Georgia? How is Georgia supposed to keep her promise when sparks start flying with a boy like Pony?

Funny and poignant, clear-eyed and hopeful, Stay Gold is a story about finding love—and finding yourself.
The Archer at Dawn (The Tiger at Midnight #2) by Swati Teerdhala
Haven't read the first book in the series? Pick it up on Amazon!
The Sun Mela is many things: a call for peace, a cause for celebration, and, above all, a deadly competition. For Kunal and Esha, finally working together as rebel spies, it provides the perfect guise to infiltrate King Vardaan's vicious court.

Kunal will return to his role as dedicated Senap soldier, at the Sun Mela to provide extra security for the palace during the peace summit for the divided nations of Jansa and Dharka. Meanwhile, Esha will use her new role as adviser to Prince Harun to keep a pulse on shifting political parties and seek out allies for their rebel cause. A radical plan is underfoot to rescue Jansa's long-lost Princess Reha—the key to the stolen throne.

But amid the Mela games and glittering festivities, much more dangerous forces lie in wait. With the rebel Blades' entry into Vardaan's court, a match has been lit, and long-held secrets will force Kunal and Esha to reconsider their loyalties—to their country and to each other. Getting into the palace was the easy task; coming out together will be a battle for their lives.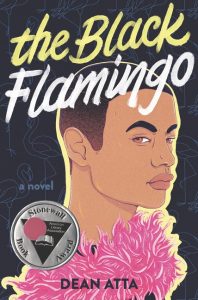 The Black Flamingo by Dean Atta
Want to know more about this one? Check out The Queer Reveiew's review!
I masquerade in makeup and feathers and I am applauded.

A boy comes to terms with his identity as a mixed-race gay teen – then at university he finds his wings as a drag artist, The Black Flamingo. A bold story about the power of embracing your uniqueness. Sometimes, we need to take charge, to stand up wearing pink feathers – to show ourselves to the world in bold colour.
The Bone Thief (The Bone Charmer #2) by Breeana Shields
Haven't read the first book in the series? Pick it up on Amazon!
Saskia returns to Ivory Hall to train in bone magic, determined to stop Latham from gaining the power of all three Sights—past, present, and future. But danger lurks within the fortress's marrow. Trials are underway for the apprentices, and the tasks feel specifically engineered to torment Saskia, which is exactly what Latham wants.

As she grows increasingly more suspicious, her thirst for revenge becomes all-consuming. Together with the friends she can trust and the boy she loved in another lifetime, Saskia traces clues from Latham's past to determine what he'll do next. Their search leads them across Kastelia and brings them to a workshop housing a vast collection of horrors, including the bones Latham stole from Gran, and the knowledge that the future isn't all that's in jeopardy—but the past as well.
The Jewel Thief by Jeannie Mobley
A lush, slow-burn romance set in 17th century France, and centered around the broken history of the Hope Diamond– the high-society intrigue of Richelle Mead's Glittering Court series meets the romance of Melissa de la Cruz's Alex and Eliza.

In the depths of the Bastille, sixteen-year-old Juliet Pitau sits cold and filthy in her cell. Charged with stealing what has come to be known as the Hope Diamond from King Louis XIV, she has one final chance to convince the King that her motives were pure. If she fails, this night may be her last. Recording her confession is Rene, a scribe for the king and the man she loves. But Rene won't even look her way, let alone begin to forgive her for her betrayal of him.

Before Juliet was imprisoned, she was the daughter of the finest gem cutter in all of Paris. The young King Louis XIV hand-selected Jean Pitau to be his crown jeweler, the only man who could make him shine like the sun. When Louis purchases the Tavernier Violet, a large, deep-blue diamond the likes of which the French court has never seen, Jean is tasked with turning it brilliant. But Juliet's father has never cut a diamond quite like this–and shaping it is risky business. While Jean spirals into depression, Juliet takes it upon herself to have the diamond cut for the King. But with every misstep, she brings her family closer to ruin, and closer to probable death at morning's light once Louis casts his sentence.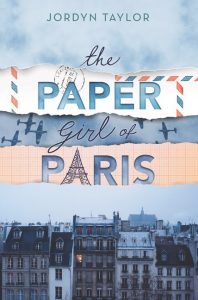 The Paper Girls of Paris by Jordyn Taylor
Want to know more about this one? Check out The Candid Cover's review!
Now:

Sixteen-year-old Alice is spending the summer in Paris, but she isn't there for pastries and walks along the Seine. When her grandmother passed away two months ago, she left Alice an apartment in France that no one knew existed. An apartment that has been locked for more than seventy years.

Alice is determined to find out why the apartment was abandoned and why her grandmother never once mentioned the family she left behind when she moved to America after World War II. With the help of Paul, a charming Parisian student, she sets out to uncover the truth. However, the more time she spends digging through the mysteries of the past, the more she realizes there are secrets in the present that her family is still refusing to talk about.

Then:

Sixteen-year-old Adalyn doesn't recognize Paris anymore. Everywhere she looks, there are Nazis, and every day brings a new horror of life under the Occupation. When she meets Luc, the dashing and enigmatic leader of a resistance group, Adalyn feels she finally has a chance to fight back. But keeping up the appearance of being a much-admired socialite while working to undermine the Nazis is more complicated than she could have imagined. As the war goes on, Adalyn finds herself having to make more and more compromises—to her safety, to her reputation, and to her relationships with the people she loves the most.
Are you planning on picking up any of these new releases?  Let me know in the comments which one you are most excited for!!
Save this list for later!