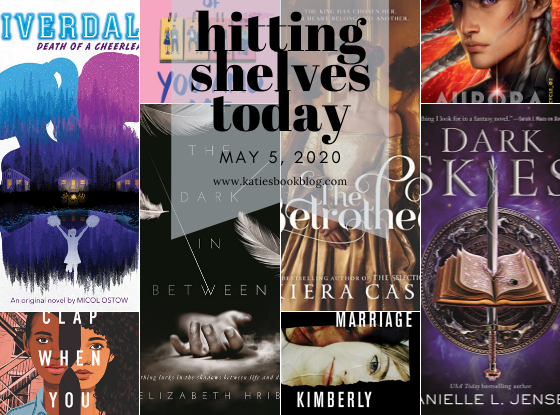 Hitting Shelves Today is a feature on Kait Rose, highlighting new book releases for the week.
*Amazon links are affiliates links*

A Good Marriage by Kimberly McCreight
Want to know if you should read this one? Check out The Nerd Daily's review!
Lizzie Kitsakis is working late when she gets the call. Grueling hours are standard at elite law firms like Young & Crane, but they'd be easier to swallow if Lizzie was there voluntarily. Until recently, she'd been a happily underpaid federal prosecutor. That job and her brilliant, devoted husband Sam—she had everything she'd ever wanted. And then, suddenly, it all fell apart.

No. That's a lie. It wasn't sudden, was it? Long ago the cracks in Lizzie's marriage had started to show. She was just good at averting her eyes.

The last thing Lizzie needs right now is a call from an inmate at Rikers asking for help—even if Zach Grayson is an old friend. But Zach is desperate: his wife, Amanda, has been found dead at the bottom of the stairs in their Brooklyn brownstone. And Zach's the primary suspect.

As Lizzie is drawn into the dark heart of idyllic Park Slope, she learns that Zach and Amanda weren't what they seemed—and that their friends, a close-knit group of fellow parents at the exclusive Grace Hall private school, might be protecting troubling secrets of their own. In the end, she's left wondering not only whether her own marriage can be saved, but what it means to have a good marriage in the first place.
Aurora Burning (The Aurora Cycle #2) by Amie Kaufman, Jay Kristoff
Book #1, Aurora Rising, is $1.99 for Kindle right now!
First, the bad news: an ancient evil—you know, your standard consume-all-life-in-the-galaxy deal—is about to be unleashed. The good news? Squad 312 is standing by to save the day. They've just got to take care of a few small distractions first.

Like the clan of gremps who'd like to rearrange their favorite faces.

And the cadre of illegit GIA agents with creepy flowers where their eyes used to be, who'll stop at nothing to get their hands on Auri.

Then there's Kal's long-lost sister, who's not exactly happy to see her baby brother, and has a Syldrathi army at her back. With half the known galaxy on their tails, Squad 312 has never felt so wanted.

When they learn the Hadfield has been found, it's time to come out of hiding. Two centuries ago, the colony ship vanished, leaving Auri as its sole survivor. Now, its black box might be what saves them. But time is short, and if Auri can't learn to master her powers as a Trigger, the squad and all their admirers are going to be deader than the Great Ultrasaur of Abraaxis IV.

Shocking revelations, bank heists, mysterious gifts, inappropriately tight bodysuits, and an epic firefight will determine the fate of the Aurora Legion's most unforgettable heroes—and maybe the rest of the galaxy as well.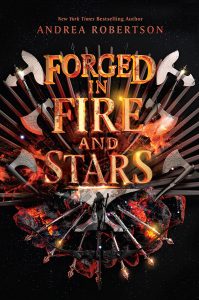 Forged in Fire and Stars by Andrea Robertson
Andrea is doing a virtual tour for the release! Check out the stops on The Fandom's post!
Ara has always known about the legend of the Loresmith: the blacksmith who served alongside the kings and queens of every generation to protect the kingdom. It was her fate to inherit the title–though she never truly believed it would come to pass since the monarchy's downfall years before.

But when the lost Princess Nimhea and Prince Eamon steal Ara from her quiet life with a mission to retake the throne–and take her place as the Loresmith–her whole world turns upside down. Their journey will take Ara on a dangerous adventure to discover new truths about her family's legacy, and even to face the gods themselves. And with a mysterious thief as an unexpected companion, Ara must use all her skills to figure out just who she can trust, and forge the right path forward–for herself, her kingdom, and her heart.
Last Girls by Demetra Brodsky
Still trying to decide if you want to read this one? Check out an excerpt on the Tor Teen blog!
No one knows how the world will end.

On a secret compound in the Washington wilderness, Honey Juniper and her sisters are training to hunt, homestead, and protect their own.

Prepare for every situation.

But when danger strikes from within, putting her sisters at risk, training becomes real life, and only one thing is certain:

Nowhere is safe.
Close Up (Burning Cove #4) by Amanda Quick
You can find out more about the other books in this series on Goodreads!
Welcome to Burning Cove, California where 1930s Hollywood glamour conceals a ruthless killer…

Vivian Brazier never thought life as an art photographer would include nightly wake-up calls to snap photos of grisly crime scenes or headshots for aspiring male actors. Although she is set on a career of transforming photography into a new art form, she knows her current work is what's paying the bills.

After shooting crime scene photos of a famous actress, the latest victim of the murderer the press has dubbed the "Dagger Killer," Vivian notices eerie similarities to the crime scenes of previous victims—details that only another photographer would have noticed—details that put Vivian at the top of the killer's target list.

Nick Sundridge has always been able to "see" things that others don't, coping with disturbing dreams and visions. His talent, or as he puts it—his curse—along with his dark past makes him a recluse, but a brilliant investigator. As the only one with the ability to help, Nick is sent to protect Vivian. Together, they discover the Dagger Killer has ties to the glitz and glamour of Hollywood royalty and high society. It is a cutthroat world of allure and deception that Vivian and Nick must traverse—all in order to uncover the killer who will stop at nothing to add them to their gallery of murders.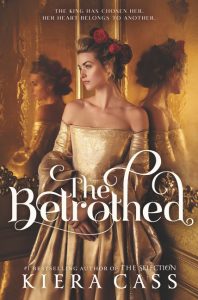 The Betrothed by Kiera Cass
Want to know more? Check out the book trailer for The Betrothed!
When King Jameson declares his love for Lady Hollis Brite, Hollis is shocked—and thrilled. After all, she's grown up at Keresken Castle, vying for the king's attention alongside other daughters of the nobility. Capturing his heart is a dream come true.

But Hollis soon realizes that falling in love with a king and being crowned queen may not be the happily ever after she thought it would be. And when she meets a commoner with the mysterious power to see right into her heart, she finds that the future she really wants is one that she never thought to imagine.
The Mermaid, The Witch, and The Sea by Maggie Tokuda-Hall
Find out more about Maggie Tokuda-Hall and her book in this interview on We Need Diverse Books' site.
Aboard the pirate ship Dove, Flora the girl takes on the identity of Florian the man to earn the respect and protection of the crew. For Flora, former starving urchin, the brutal life of a pirate is about survival: don't trust, don't stick out, and don't feel. But on this voyage, as the pirates prepare to sell their unsuspecting passengers into slavery, Flora is drawn to the Lady Evelyn Hasegawa, who is en route to a dreaded arranged marriage with her own casket in tow. Flora doesn't expect to be taken under Evelyn's wing, and Evelyn doesn't expect to find such a deep bond with the pirate Florian.

Soon the unlikely pair set in motion a wild escape that will free a captured mermaid (coveted for her blood, which causes men to have visions and lose memories) and involve the mysterious Pirate Supreme, an opportunistic witch, and the all-encompassing Sea itself.
Dark Skies (Dark Shores #2) by Danielle L. Jensen
Check out Den Of Geek's excerpt from the first book, Dark Shores, if you want to know more!
A RUNAWAY WITH A HIDDEN PAST
Lydia is a scholar, but books are her downfall when she meddles in the plots of the most powerful man in the Celendor Empire. Her life in danger, she flees west to the far side of the Endless Seas and finds herself entangled in a foreign war where her burgeoning powers are sought by both sides.

A COMMANDER IN DISGRACE
Killian is Marked by the God of War, but his gifts fail him when the realm under the dominion of the Corrupter invades Mudamora. Disgraced, he swears his sword to the kingdom's only hope: the crown princess. But the choice sees him caught up in a web of political intrigue that will put his oath – and his heart – to the test.

A KINGDOM UNDER SIEGE
With Mudamora falling beneath the armies of the Corrupter, Lydia and Killian strike a bargain to save those they love most—but it is a bargain with unintended and disastrous consequences. Truths are revealed, birthrights claimed, and loyalties questioned—all while a menace deadlier and more far-reaching than they realize sweeps across the world.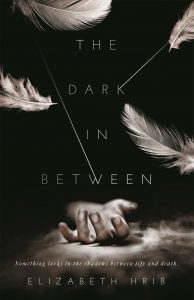 The Dark In Between by Elizbaeth Hrib
Want to know more? Check out the book trailer for The Dark In Between!
A terrible accident brings sixteen-year-old Casey Everett's life to a halt—literally. Pronounced dead on the beach during the year-end harbor party, Casey's sudden return to the living is shadowed by the drowning of her best friend, Liddy.

Eager to avoid the rumors that follow her, Casey returns home for the summer, only to find that Liddy won't let her go. A series of violent nightmares and soulless whispers threaten to drive her mad, but when she watches a boy fall from the sky, she suspects she's actually crossed that line.

That is until Red—an angel fallen to earth to regain his wings—takes her to Limbo: a place that exists somewhere between the living and the dead. Now, in order to save her best friend, Casey must learn to walk these mysterious and dangerous paths or else risk losing Liddy to something worse than death.
Heartstopper: Volume 1 by Alice Oseman
Want to know more about Heartstopper and Alice Oseman? Check out The Reading Realm's interview with Alice!
Boy meets boy. Boys become friends. Boys fall in love. A sweet and charming coming-of-age story that explores friendship, love, and coming out.

"Absolutely delightful. Sweet, romantic, kind. Beautifully paced. I loved this book." — Rainbow Rowell, author of Carry On
Shy and softhearted Charlie Spring sits next to rugby player Nick Nelson in class one morning. A warm and intimate friendship follows, and that soon develops into something more for Charlie, who doesn't think he has a chance.

But Nick is struggling with feelings of his own, and as the two grow closer and take on the ups and downs of high school, they come to understand the surprising and delightful ways in which love works.
Clap When You Land by Elizabeth Acevedo
I didn't ever review it but Elizabeth Acevedo's other book, The Poet X, is fabulous.  If you're questioning this one, I for sure can recommend that one as a good place to start!
Camino Rios lives for the summers when her father visits her in the Dominican Republic. But this time, on the day when his plane is supposed to land, Camino arrives at the airport to see crowds of crying people…

In New York City, Yahaira Rios is called to the principal's office, where her mother is waiting to tell her that her father, her hero, has died in a plane crash.

Separated by distance—and Papi's secrets—the two girls are forced to face a new reality in which their father is dead and their lives are forever altered.

And then, when it seems like they've lost everything of their father, they learn of each other.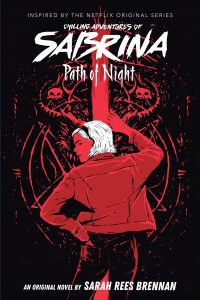 Chilling Adventures of Sabrina: Path of Night by Sarah Rees Brennan
It's not easy being half-mortal, half-witch. At least, not for Sabrina Spellman. She just discovered that her dad is Satan… and that it's her destiny to rule Hell.

As usual, Sabrina's got other plans for her future. She's figured out a way to trap her father… but he's caged in the body of her boyfriend, Nick Scratch. Now the love of her life is stuck in Hell… with Satan stuck inside him.

Sabrina knows there's a way to get Nick back while also keeping dear old dad out of commission. She just has to figure out what it is. Unfortunately, her loyal cousin Ambrose is unavailable because he's off hunting Father Blackwood, the evil former head of the Church of Night.

Fortunately, Sabrina's still got her mortal friends, Roz, Harvey, and Theo. So when her aunt Zelda, now the church's high priestess, mentions an ancient quest that might help open the gates of Hell, Sabrina and her friends are all in. But Zelda failed to mention that the quest has some perils of its own…
War and Speech by Don Zolidis
Curious about this one? You can read We Live and Breathe Books' review to find out more and enter to win a copy!
At Eaganville School for the Arts, Speech and Debate is king. The varsity members of the squad are treated like heroes, and the coach, the irascible Joey Sparks, might as well be a god. But when new girl Sydney Williams, a perennial loser, joins the team, she has only one goal in mind: To infiltrate the team in an elaborate conspiracy and tear them apart from the inside out.
Four Days of You and Me by Miranda Kenneally
If you don't already know how awesome Miranda's books are, check out my reviews of Catching Jordan, Stealing Parker, Things I Can't Forget, and Racing Savannah.
Every May 7, the students at Coffee County High School take a class trip. And every year, Lulu's relationship with Alex Rouvelis gets a little more complicated. Freshman year, they went from sworn enemies to more than friends after a close encounter in an escape room. It's been hard for Lulu to quit Alex ever since.

Through breakups, make ups, and dating other people, each year's class trip brings the pair back together and forces them to confront their undeniable connection. From the science museum to an amusement park, from New York City to London, Lulu learns one thing is for sure: love is the biggest trip of all.
The Life and (Medieval) Times of Kit Sweetly by Jamie Pacton
Curious? Check out BookPage's review!
Kit Sweetly slays sexism, bad bosses, and bad luck to become a knight at a medieval-themed restaurant.

Working as a wench―i.e. waitress―at a cheesy medieval-themed restaurant in the Chicago suburbs, Kit Sweetly dreams of being a knight like her brother. She has the moves, is capable on a horse, and desperately needs the raise that comes with knighthood, so she can help her mom pay the mortgage and hold a spot at her dream college.

Company policy allows only guys to be knights. So when Kit takes her brother's place and reveals her identity at the end of the show, she rockets into internet fame and a whole lot of trouble with the management. But the Girl Knight won't go down without a fight. As other wenches join her quest, a protest forms. In a joust before Castle executives, they'll prove that gender restrictions should stay medieval―if they don't get fired first.
Riverdale: Death of a Cheerleader by Micol Ostow
Betty, Veronica, Cheryl, and the rest of the River Vixens are heading out of town for the weekend on a cheerleading retreat. So Archie, Jughead, and the rest of the guys decide to have a poker night at La Bonne Nuit. But a storm causes the power to go out, and the speakeasy goes into lockdown. When the lights come back on, all of the cash is gone. The thief has to be someone the guys know — but who?
A few hours away, the River Vixens are ready to enjoy a few days of nature and team bonding. But when they arrive at the cheerleading camp, there are two other feuding squads already there. The team from Stonewall Prep claims that the Greendale girls are the reason one of their teammates went missing two years ago.
Betty and Veronica volunteer to investigate after creepy things start happening all over camp. And when one of the cheerleaders nearly drowns in the lake, B&V know they have to find out the truth before anyone else gets hurt — or worse.
Are you planning on picking up any of these new releases?  Let me know in the comments which one you are most excited for!!
Save this list for later!