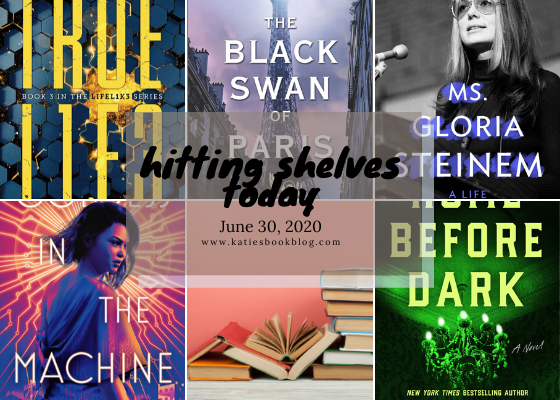 Hitting Shelves Today is a feature on Kait Rose, highlighting new book releases for the week.
*Amazon links are affiliates links*
Goddess in the Machine (Goddess in the Machine #1) by Lora Beth Johnson
Want to know more about Goddess in the Machine? Check out the virtual launch party tonight hosted by Main Street Books Davidson!
When Andra wakes up, she's drowning.

Not only that, but she's in a hot, dirty cave, it's the year 3102, and everyone keeps calling her Goddess. When Andra went into a cryonic sleep for a trip across the galaxy, she expected to wake up in a hundred years, not a thousand. Worst of all, the rest of the colonists–including her family and friends–are dead. They died centuries ago, and for some reason, their descendants think Andra's a deity. She knows she's nothing special, but she'll play along if it means she can figure out why she was left in stasis and how to get back to Earth.

Zhade, the exiled bastard prince of Eerensed, has other plans. Four years ago, the sleeping Goddess's glass coffin disappeared from the palace, and Zhade devoted himself to finding it. Now he's hoping the Goddess will be the key to taking his rightful place on the throne–if he can get her to play her part, that is. Because if his people realize she doesn't actually have the power to save their dying planet, they'll kill her.

With a vicious monarch on the throne and a city tearing apart at the seams, Zhade and Andra might never be able to unlock the mystery of her fate, let alone find a way to unseat the king, especially since Zhade hasn't exactly been forthcoming with Andra. And a thousand years from home, is there any way of knowing that Earth is better than the planet she's woken to?
Home Before Dark by Riley Sager
Want to know more about Home Before Dark? Check out USA Today's review!
What was it like? Living in that house.

Maggie Holt is used to such questions. Twenty-five years ago, she and her parents, Ewan and Jess, moved into Baneberry Hall, a rambling Victorian estate in the Vermont woods. They spent three weeks there before fleeing in the dead of night, an ordeal Ewan later recounted in a nonfiction book called House of Horrors. His tale of ghostly happenings and encounters with malevolent spirits became a worldwide phenomenon, rivaling The Amityville Horror in popularity—and skepticism.

Today, Maggie is a restorer of old homes and too young to remember any of the events mentioned in her father's book. But she also doesn't believe a word of it. Ghosts, after all, don't exist. When Maggie inherits Baneberry Hall after her father's death, she returns to renovate the place to prepare it for sale. But her homecoming is anything but warm. People from the past, chronicled in House of Horrors, lurk in the shadows. And locals aren't thrilled that their small town has been made infamous thanks to Maggie's father. Even more unnerving is Baneberry Hall itself—a place filled with relics from another era that hint at a history of dark deeds. As Maggie experiences strange occurrences straight out of her father's book, she starts to believe that what he wrote was more fact than fiction.

In the latest thriller from New York Times bestseller Riley Sager, a woman returns to the house made famous by her father's bestselling horror memoir. Is the place really haunted by evil forces, as her father claimed? Or are there more earthbound—and dangerous—secrets hidden within its walls?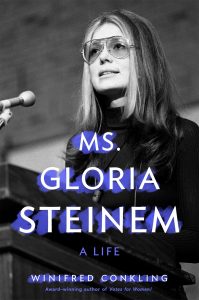 Ms. Gloria Steinem: A Life by Winifred Conkling
Throughout the years, Gloria Steinem is perhaps the single-most iconic figure associated with women's rights, her name practically synonymous with the word "feminism."

Documenting everything from her boundary-pushing journalistic career to the foundation of Ms. magazine to being awarded the 2013 Presidential Medal of Freedom, Winifred Conkling's Ms. Gloria Steinem: A Life is a meticulously researched YA biography that is sure to satisfy even the most voracious of aspiring glass-ceiling smashers.

Gloria Steinem was no stranger to injustice even from a young age.

Her mother, Ruth, having suffered a nervous breakdown at only 34, spent much of Gloria's childhood in and out of mental health facilities. And when Gloria was only 10 years old, her father divorced her mother and left for California, unable to bear the stress of caring for Ruth any longer.

Gloria never blamed her mother for being unable to hold down a job to support them both after that, but rather blamed society's intrinsic hostility toward women, and working women in particular. This was the spark that lit a fire in her that would burn for decades, and continues to burn brightly today.
The Black Swan of Paris by Karen Robards
Want to know more about The Black Swan of Paris? Check out Red Carpet Crash's review!
A world at war. A beautiful young star. A mission no one expected.

Paris, 1944

Celebrated singer Genevieve Dumont is both a star and a smokescreen. An unwilling darling of the Nazis, the chanteuse's position of privilege allows her to go undetected as an ally to the resistance.

When her estranged mother, Lillian de Rocheford, is captured by Nazis, Genevieve knows it won't be long before the Gestapo succeeds in torturing information out of Lillian that will derail the upcoming allied invasion. The resistance movement is tasked with silencing her by any means necessary—including assassination. But Genevieve refuses to let her mother become yet one more victim of the war. Reuniting with her long-lost sister, she must find a way to navigate the perilous cross-currents of Occupied France undetected—and in time to save Lillian's life.
TrueL1f3 (Lifel1k3 #3) by Jay Kristoff
Haven't read the first book in the series? Check out the Amazon page!
From the bestselling co-author of the Illuminae Files comes the thrilling finale in the LIFEL1K3 trilogy–hailed by Marie Lu as "a breathless, action-packed exploration of what humanity really means."

Best friends have become enemies. Lovers have become strangers. And deciding whose side you're on could be the difference between life and death. For Eve and Lemon, discovering the truth about themselves–and each other–was too much for their friendship to take. But with the country on the brink of a new world war–this time between the BioMaas swarm at CityHive and Daedalus's army at Megopolis, loyalties will be pushed to the brink, unlikely alliances will form and with them, betrayals. But the threat doesn't stop there, because the lifelikes are determined to access the program that will set every robot free, a task requiring both Eve and Ana, the girl she was created to replace. In the end, violent clashes and heartbreaking choices reveal the true heroes . . . and they may not be who you think they are.
Are you planning on picking up any of these new releases?  Let me know in the comments which one you are most excited for!!
Save this list for later!