Hitting Shelves Today is a feature on Kait Rose, highlighting new book releases for the week.
*Amazon links are affiliates links*
Agnes at the End of the World by Kelly McWilliams
Want to know more about this one? Check out YA Sh3lf's interview with Kelly McWilliams!
The Handmaid's Tale meets Wilder Girls in this unique, voice-driven novel from Kelly McWilliams.

Agnes loves her home of Red Creek–its quiet, sunny mornings, its dusty roads, and its God. There, she cares tirelessly for her younger siblings and follows the town's strict laws. What she doesn't know is that Red Creek is a cult, controlled by a madman who calls himself a prophet.

Then Agnes meets Danny, an Outsider boy, and begins to question what is and isn't a sin. Her younger brother, Ezekiel, will die without the insulin she barters for once a month, even though medicine is considered outlawed. Is she a sinner for saving him? Is her sister, Beth, a sinner for dreaming of the world beyond Red Creek?

As the Prophet grows more dangerous, Agnes realizes she must escape with Ezekiel and leave everyone else, including Beth, behind. But it isn't safe Outside, either: A viral pandemic is burning through the population at a terrifying rate. As Agnes ventures forth, a mysterious connection grows between her and the Virus. But in a world where faith, miracles, and cruelty have long been indistinguishable, will Agnes be able to choose between saving her family and saving the world?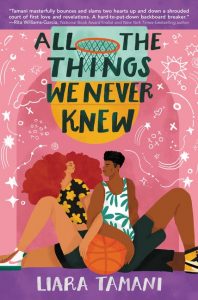 All the Things We Never Knew by Liara Tamani
Want to know more about this one? Check out Blue Willow Bookshop's interview with Liara Tamani!
"Tamani masterfully bounces and slams two hearts up and down a shrouded court of first love and revelations. A hard-to-put-down backboard-breaker."—Rita Williams-Garcia, National Book Award Finalist and New York Times–bestselling author

From the moment Carli and Rex first locked eyes on a Texas high school basketball court, they both knew it was destiny. But can you truly love someone else if you don't love yourself? Acclaimed author Liara Tamani's luminous second novel explores love, family, heartbreak, betrayal, and the power of healing, in gorgeous prose that will appeal to readers of Nicola Yoon and Jacqueline Woodson.

A glance was all it took. That kind of connection, the immediate and raw understanding of another person, just doesn't come along very often. And as rising stars on their Texas high schools' respective basketball teams, destined for bright futures in college and beyond, it seems like a match made in heaven. But Carli and Rex have secrets. As do their families.

Liara Tamani, the author of the acclaimed Calling My Name, follows two Black teenagers as they discover how first love, heartbreak, betrayal, and family can shape you—for better or for worse. A novel full of pain, joy, healing, and hope for fans of Elizabeth Acevedo, Jacqueline Woodson, and Jenny Han.

"A beautifully poignant love letter: to a first love, to basketball, and to that enigmatic bunch we think we know best, only to discover we don't know at all—family. Tamani's latest is a bright shining star."—David Arnold, New York Times–bestselling author of Mosquitoland
Hood by Jenny Elder Moke
Want to know more about this one? Check out Kid Lit 411's interview with Jenny Elder Moke!
You have the blood of kings and rebels within you, love. Let it rise to meet the call.

Isabelle of Kirklees has only ever known a quiet life inside the sheltered walls of the convent, where she lives with her mother, Marien. But after she is arrested by royal soldiers for defending innocent villagers, Isabelle becomes the target of the Wolf, King John's ruthless right hand. Desperate to keep her daughter safe, Marien helps Isabelle escape and sends her on a mission to find the one person who can help: Isabelle's father, Robin Hood.

As Isabelle races to stay out of the Wolf's clutches and find the father she's never known, she is thrust into a world of thieves and mercenaries, handsome young outlaws, new enemies with old grudges, and a king who wants her entire family dead. As she joins forces with Robin and his Merry Men in a final battle against the Wolf, will Isabelle find the strength to defy the crown and save the lives of everyone she holds dear?
Rage and Ruin (The Harbinger #2) by Jennifer L. Armentrout
Haven't read the first book, Storm and Fury? Check out the Amazon page for more info!
Dangerous secrets and forbidden desires lead to shocking consequences… Don't miss book two of the fantastical Harbinger trilogy from #1 New York Times bestselling author Jennifer L. Armentrout.

Half-angel Trinity and her bonded gargoyle protector, Zayne, have been working with demons to stop the apocalypse while avoiding falling in love. The Harbinger is coming…but who or what is it? All of humankind may fall if Trinity and Zayne can't win the race against time as dark forces gather.

As tensions rise, they must stay close together and patrol the DC streets at night, seeking signs of the Harbinger, an entity that is killing Wardens and demons with no seeming rhyme or reason. Forbidden to be with each other, Zayne and Trinity fight their feelings and turn to unusual sources for help—the demon Roth and his cohorts. But as deaths pile up and they uncover a sinister plot involving the local high school and endangering someone dear to Zayne, Trin realizes she is being led…herded…played for some unknown end. As anger builds and feelings spiral out of control, it becomes clear that rage may be the ruin of them all.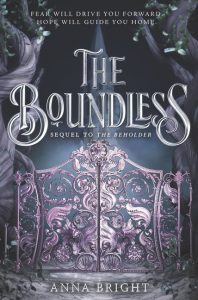 The Boundless (The Beholder #2) by Anna Bright
Haven't read the first book, the Beholder? Check out the Amazon page for more info!
This breathtaking sequel to The Beholder will take you on a journey into a darkly sparkling fairy tale, perfect for fans of The Selection and Caraval.

When Selah found true love with Prince Torden of Norway, she never imagined she'd have to leave him behind. All because the Beholder's true mission was a secret Selah's crew didn't trust her to keep: transporting weapons to the rebels fighting against the brutal tsarytsya, whose shadow looms over their next port of Shvartsval'd. A place Selah hoped she'd never go.

But gone is the girl who departed Potomac filled with fear. With a stockpile of weapons belowdecks and her heart hanging in the balance, Selah is determined to see the Beholder's quest to its end.
The Boyfriend Project by Farrah Rochon
Want to know more about this one? Check out Literary Treats' review!
USA Today bestselling author Farrah Rochon launches a new series about three young women who become friends when the live Tweeting of a disastrous date leads them to discover they've all been duped by the same man.

Samiah Brooks never thought she would be "that" girl. But a live tweet of a horrific date just revealed the painful truth: she's been catfished by a three-timing jerk of a boyfriend. Suddenly Samiah-along with his two other "girlfriends," London and Taylor-have gone viral online. Now the three new besties are making a pact to spend the next six months investing in themselves. No men, no dating, and no worrying about their relationship status . . .

For once Samiah is putting herself first, and that includes finally developing the app she's always dreamed of creating. Which is the exact moment she meets the deliciously sexy, honey-eyed Daniel Collins at work. What are the chances? When it comes to love, there's no such thing as a coincidence. But is Daniel really boyfriend material or is he maybe just a little too good to be true?
The Falling in Love Montage by Ciara Smyth
Want to know more about this one? Check out The Fantastic Flying Book Club's blog tour!
Saoirse doesn't believe in love at first sight or happy endings. If they were real, her mother would still be able to remember her name and not in a care home with early onset dementia. A condition that Saoirse may one day turn out to have inherited. So she's not looking for a relationship. She doesn't see the point in igniting any romantic sparks if she's bound to burn out.

But after a chance encounter at an end-of-term house party, Saoirse is about to break her own rules. For a girl with one blue freckle, an irresistible sense of mischief, and a passion for rom-coms.

Unbothered by Saoirse's no-relationships rulebook, Ruby proposes a loophole: They don't need true love to have one summer of fun, complete with every cliché, rom-com montage-worthy date they can dream up—and a binding agreement to end their romance come fall. It would be the perfect plan, if they weren't forgetting one thing about the Falling in Love Montage: when it's over, the characters actually fall in love… for real.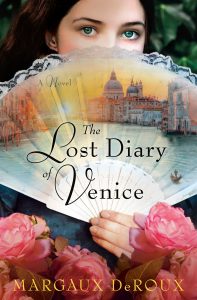 The Lost Diary of Venice by Margaux DeRoux
Want to know more about this one? Check out The Booktrail's review!
Two impossible love stories are fatefully connected by one artistic legacy in a stunning debut that leaps between the mysteries of late Renaissance Venice and the dramas of present-day Connecticut.

In the months following her beloved father's death, introverted book restorer Rose has found solace in her work. But on one rainy Connecticut afternoon, struggling painter William Lomazzo appears at her door. He brings with him a sixteenth-century treatise on art, left remarkably intact; Rose is quickly able to identify the pages as a palimpsest, a document written over a hidden text that had purposely been scraped away. Yet the restoration poses a confounding issue: Rose and William–a married man–are captivated by one another, an unspoken attraction linking them almost instantly.

Five centuries earlier, Renaissance-era Venetians find themselves at the mercy of an encroaching Ottoman fleet, preparing for a bloody war. Giovanni Lomazzo, a respected portrait artist still grappling with the death of his wife and young son, is terrified to discover his vision declining with each passing day, forcing him to document his every encounter as he faces the possibility of a completely dark, colorless world. Commissioned to paint the enchanting courtesan of one of Venice's most respected military commanders–what may very well be his final artistic feat–Gio soon finds himself enraptured by a dangerous, magnificent forbidden love. All the while, the threat of the Ottoman Empire looms as the rival army hopes to lay siege to the port city.

Spellbound by Gio's revelations, Rose and William find themselves forced to confront the reality of their own mystifying connection. A richly detailed page-turner shadowed by one of history's darkest times, The Lost Diary of Venice weaves a heartbreakingly vivid portrait of two vastly different worlds and two tales of entrancing, unrelenting love.
The Marriage Game by Sara Desai
Want to know more about this one? Check out The Nerd Daily's review!
A high stakes wager pits an aspiring entrepreneur against a ruthless CEO in this sexy romantic comedy.

After her life falls apart, recruitment consultant Layla Patel returns home to her family in San Francisco. But in the eyes of her father, who runs a Michelin starred restaurant, she can do no wrong. He would do anything to see her smile again. With the best intentions in mind, he offers her the office upstairs to start her new business and creates a profile on an online dating site to find her a man. She doesn't know he's arranged a series of blind dates until the first one comes knocking on her door…

As CEO of a corporate downsizing company Sam Mehta is more used to conflict than calm. In search of a quiet new office, he finds the perfect space above a cozy Indian restaurant that smells like home. But when communication goes awry, he's forced to share his space with the owner's beautiful yet infuriating daughter Layla, her crazy family, and a parade of hopeful suitors, all of whom threaten to disrupt his carefully ordered life.

As they face off in close quarters, the sarcasm and sparks fly. But when the battle for the office becomes a battle of the heart, Sam and Layla have to decide if this is love or just a game.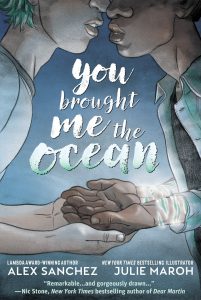 You Brought Me the Ocean by Alex Sanchez and Julie Maroh
Want to know more about this one? Check out DC Comics' first look!
Jake Hyde doesn't swim––not since his father drowned. Luckily, he lives in Truth or Consequences, New Mexico, which is in the middle of the desert, yet he yearns for the ocean and is determined to leave his hometown for a college on the coast. But his best friend, Maria, wants nothing more than to make a home in the desert, and Jake's mother encourages him to always play it safe.

There's nothing "safe" about Jake's future—not when he's attracted to Kenny Liu, swim team captain and rebel against conformity. And certainly not when he secretly applies to Miami University. Jake's life begins to outpace his small town's namesake, which doesn't make it any easier to come out to his mom, or Maria, or the world.

But Jake is full of secrets, including the strange blue markings on his skin that glow when in contact with water. What power will he find when he searches for his identity, and will he turn his back to the current or dive headfirst into the waves?
Are you planning on picking up any of these new releases?  Let me know in the comments which one you are most excited for!!
Save this list for later!