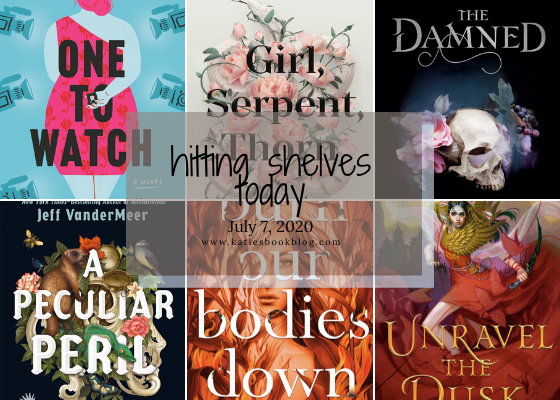 Hitting Shelves Today is a feature on Kait Rose, highlighting new book releases for the week.
*Amazon links are affiliates links*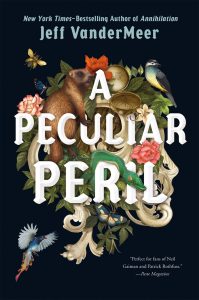 A Peculiar Peril by Jeff VanderMeer
Want to know more about A Peculiar Peril? Check out an excerpt on Tor's website!
An epic about three friends on a quest to protect the world from a threat as unknowable as it is terrifying.

Jonathan Lambshead stands to inherit his deceased grandfather's overstuffed mansion—a veritable cabinet of curiosities—once he and two schoolmates catalog its contents. But the three soon discover that the house is filled with far more than just oddities: It holds clues linking to an alt-Earth called Aurora, where the notorious English occultist Aleister Crowley has stormed back to life on a magic-fueled rampage across a surreal, through-the-looking-glass version of Europe replete with talking animals (and vegetables).

Swept into encounters with allies more unpredictable than enemies, Jonathan pieces together his destiny as a member of a secret society devoted to keeping our world separate from Aurora. But as the ground shifts and allegiances change with every step, he and his friends sink ever deeper into a deadly pursuit of the profound evil that is also chasing after them.
Accidental by Alex Richards
Want to know more about Accidental? Check out YA Sh3lf's interview with author Alex Richards!
This timely, emotionally-resonant story about a teen girl dealing with the aftermath of a tragic shooting is a must-read from an exciting new YA talent.

Johanna has had more than enough trauma in her life. She lost her mom in a car accident, and her father went AWOL when Johanna was just a baby. At sixteen, life is steady, boring . . . maybe even stifling, since she's being raised by her grandparents who never talk about their daughter, her mother Mandy.

Then he comes back: Robert Newsome, Johanna's father, bringing memories and pictures of Mandy. But that's not all he shares. A tragic car accident didn't kill Mandy–it was Johanna, who at two years old, accidentally shot her own mother with an unsecured gun.

Now Johanna has to sort through it all–the return of her absentee father, her grandparents' lies, her part in her mother's death. But no one, neither her loyal best friends nor her sweet new boyfriend, can help her forgive them. Most of all, can she ever find a way to forgive herself?

In a searing, ultimately uplifting story, debut author Alex Richards tackles a different side of the important issue that has galvanized teens across our country.

All These Monsters by Amy Tintera
Want to know more about All These Monsters? Check out Publishers Weekly's review!
Seventeen-year-old Clara is ready to fight back. Fight back against her abusive father, fight back against the only life she's ever known, and most of all, fight back against scrabs, the earth-dwelling monsters that are currently ravaging the world. So when an opportunity arises for Clara to join an international monster-fighting squad, she jumps at the chance.

When Clara starts training with her teammates, however, she realizes what fighting monsters really means: sore muscles, exhaustion, and worst of all, death. Scrabs are unpredictable, violent, and terrifying. But as Clara gains confidence in her battle skills, she starts to realize scrabs might not be the biggest evil. The true monsters are the ones you least expect.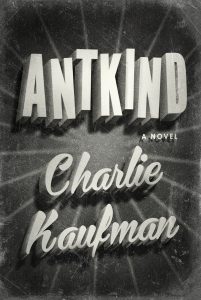 Antkind by Charlie Kaufman
Want to know more about Antkind? Check out Los Angeles Times' interview with author Charlie Kaufman!
The bold and boundlessly original debut novel from the Oscar-winning screenwriter of Being John Malkovich, Adaptation, Eternal Sunshine of the Spotless Mind, and Synecdoche, New York.

B. Rosenberger Rosenberg, neurotic and underappreciated film critic (failed academic, film-maker, paramour, shoe salesman who sleeps in a sock drawer), stumbles upon a hitherto unseen film made by an enigmatic outsider – a film he's convinced will change his career trajectory and rock the world of cinema to its core. His hands on what is possibly the greatest movie ever made – a three-month-long stop-motion masterpiece that took its reclusive auteur ninety years to complete – B. knows that it is his mission to show it to the rest of humanity. The only problem: The film is destroyed, leaving him the sole witness to its inadvertently ephemeral genius.

All that's left of this work of art is a single frame from which B. must somehow attempt to recall the film that just might be the last great hope of civilization. Thus begins a mind-boggling journey through the hilarious nightmarescape of a psyche as lushly Kafkaesque as it is atrophied by the relentless spew of Twitter. Desperate to impose order on an increasingly nonsensical existence, trapped in a self-imposed prison of aspirational victimhood and degeneratively inclusive language, B. scrambles to recreate the lost masterwork while attempting to keep pace with an ever-fracturing culture of "likes" and arbitrary denunciations that are simultaneously his bete noire and his raison d'etre.

A searing indictment of the modern world, Antkind is a richly layered meditation on art, time, memory, identity, comedy, and the very nature of existence itself – the grain of truth at the heart of every joke.

Burn Our Bodies Down by Rory Power
Want to know more about Burn Our Bodies Down? Check out BookPage's review!
From the author of the New York Times bestseller Wilder Girls comes a new twisty thriller about a girl whose past has always been a mystery—until she decides to return to her mother's hometown . . . where history has a tendency to repeat itself.

Ever since Margot was born, it's been just her and her mother. No answers to Margot's questions about what came before. No history to hold on to. No relative to speak of. Just the two of them, stuck in their run-down apartment, struggling to get along.

But that's not enough for Margot. She wants family. She wants a past. And she just found the key she needs to get it: A photograph, pointing her to a town called Phalene. Pointing her home. Only, when Margot gets there, it's not what she bargained for.

Margot's mother left for a reason. But was it to hide her past? Or was it to protect Margot from what's still there?

The only thing Margot knows for sure is there's poison in their family tree, and their roots are dug so deeply into Phalene that now that she's there, she might never escape.
Cinderella is Dead by Kalynn Bayron
Want to know more about Cinderella is Dead? Check out The Nerd Daily's review!
It's 200 years after Cinderella found her prince, but the fairy tale is over. Teen girls are now required to appear at the Annual Ball, where the men of the kingdom select wives based on a girl's display of finery. If a suitable match is not found, the girls not chosen are never heard from again.

Sixteen-year-old Sophia would much rather marry Erin, her childhood best friend, than parade in front of suitors. At the ball, Sophia makes the desperate decision to flee, and finds herself hiding in Cinderella's mausoleum. There, she meets Constance, the last known descendant of Cinderella and her step sisters. Together they vow to bring down the king once and for all–and in the process, they learn that there's more to Cinderella's story than they ever knew . . .

This fresh take on a classic story will make readers question the tales they've been told, and root for girls to break down the constructs of the world around them.
Evil Thing (Villains #7) by Serena Valentino
Want to know more about Evil Thing? Check out an excerpt on Nerdist's website!
Cruella De Vil is the perfect villain: stylish, witty, relentless…and possibly cursed.

From her lonely childhood, to her iconic fashion choices, to that fateful car crash (you know the one), Cruella tells all in this marvelous memoir of a woman doomed. Even the cruelest villains have best friends, true loves, and daring dreams. Now it's Cruella's turn to share hers.

This latest novel by the author of the wildly popular and darkly fascinating Villains series brings readers a tale told by the Evil Thing herself-a tale of the complicated bonds of female friendship, of mothers and daughters, and of burning, destructive desire.

After all, nothing is as simple as black and white.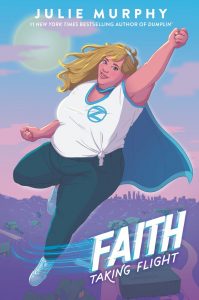 Faith: Taking Flight by Julie Murphy
Want to know more about Faith: Taking Flight? Check out The Nerd Daily's interview with Julie Murphy.
From Julie Murphy, #1 New York Times bestselling author of Dumplin', comes the first in a two-book origin story of Faith, a groundbreaking, plus-sized superhero from the Valiant Entertainment comics.

Faith Herbert is a pretty regular teen. When she's not hanging out with her two best friends, Matt and Ches, she's volunteering at the local animal shelter or obsessing over the long-running teen drama The Grove.

So far, her senior year has been spent trying to sort out her feelings for her maybe-crush Johnny and making plans to stay close to Grandma Lou after graduation. Of course, there's also that small matter of recently discovering she can fly….

When the fictional world of The Grove crashes into Faith's reality as the show relocates to her town, she can't believe it when TV heroine Dakota Ash takes a romantic interest in her.

But her fandom-fueled daydreams aren't enough to distract Faith from the fact that first animals, then people, have begun to vanish from the town. Only Faith seems able to connect the dots to a new designer drug infiltrating her high school. But when her investigation puts the people she loves in danger, she will have to confront her hidden past and use her newfound gifts—risking everything to save her friends and beloved town.
Girl, Serpent, Thorn by Melissa Bashardoust
Want to know more about Girl, Serpent, Thorn? Check out NovelKnight's review!
A captivating and utterly original fairy tale about a girl cursed to be poisonous to the touch, and who discovers what power might lie in such a curse…

There was and there was not, as all stories begin, a princess cursed to be poisonous to the touch. But for Soraya, who has lived her life hidden away, apart from her family, safe only in her gardens, it's not just a story.

As the day of her twin brother's wedding approaches, Soraya must decide if she's willing to step outside of the shadows for the first time. Below in the dungeon is a demon who holds knowledge that she craves, the answer to her freedom. And above is a young man who isn't afraid of her, whose eyes linger not with fear, but with an understanding of who she is beneath the poison.

Soraya thought she knew her place in the world, but when her choices lead to consequences she never imagined, she begins to question who she is and who she is becoming…human or demon. Princess or monster.
Hard Wired by Len Vlahos
Want to know more about Hard Wired? Check out Readasaurus Review's book review?
From acclaimed Morris finalist Len Vlahos comes a grounded sci-fi story about a boy who's more than human, perfect for fans of Westworld and LIFEL1K3.

Quinn thinks he's a normal fifteen year-old. He plays video games, spends time with his friends, and crushes on a girl named Shea. But a shocking secret brings his entire world crashing down: he's not a boy. He's artificial intelligence.

After Quinn "wakes up," he sees his world was nothing more than a virtual construct. He's the QUantum INtelligence Project, the first fully-aware A.I. in the world–part of a grand multi-billion-dollar experiment led by the very man he believed to be his dead father.

But as Quinn encounters the real world for the first time, his life becomes a nightmare. While the scientists continue to experiment on him, Quinn must come to grips with the truth: his mom and brother don't exist. His friends are all adults who were paid to hang out with him. Even other super computers aren't like him. Quinn finds himself completely alone–until he bonds with Shea, the real girl behind the virtual one. As Quinn explores what it means to truly live, he questions who he can trust. What will it take to win his freedom . . . and where does he belong?

Award-winning author Len Vlahos offers a perfect blend of science fiction and contemporary in this unputdownable, high stakes tale that explores big questions about what it means to be human.
Love, Jacaranda by Alex Flinn
From #1 New York Times bestselling author Alex Flinn comes a tale of taking a chance on love and letting your inner voice soar.

Jacaranda Abbott has always tried to keep her mouth shut. As a foster kid, she's learned the hard way that the less she talks about her mother and why she's in jail, the better. But when a video of Jacaranda singing goes viral, a mysterious benefactor offers her a life-changing opportunity—a scholarship to a prestigious boarding school to study musical theater. Eager to start over somewhere new, Jacaranda leaps at the chance. She pours her heart out in emails to the benefactor she's never met.

Suddenly she's swept up in a world of privilege where the competition is fierce and the talent is next level. As Jacaranda—Jackie to her new friends—tries to find her place, a charming boy from this world of wealth catches her eye. She begins to fall for him, but can he accept her for who she really is?
Not Another Love Song by Olivia Wildenstein
Want to know more about Not Another Love Song? Check out the blog tour hosted by Xpresso Book Tours!
An aspiring teenage singer finds herself playing a different tune when she falls for a boy who could jeopardize her future dreams in Olivia Wildenstein's romantic YA novel, Not Another Love Song.

Angie has studied music her entire life, nurturing her talent as a singer. Now a high school senior, she has an opportunity to break into Nashville's music scene via a songwriting competition launched by her idol, Mona Stone. Discouraged by her mother, who wishes Angie would set more realistic life goals, she nonetheless pours her heart and soul into creating a song worthy of Mona.

But Angie's mother is the least of her concerns after she meets Reedwood High's newest transfer student, Ten. With his endless collection of graphic tees, his infuriating attitude, smoldering good looks, and endearing little sister, Ten toys with the rhythm of Angie's heart.

She's never desired anything but success until Ten entered her life. Now she wants to be with him and to be a songwriter for Mona Stone, but she can't have both.

And picking one means losing the other.
One to Watch by Kate Stayman-London
Want to know more about One to Watch? Check out Gen the Bookworm's review!
Real love…as seen on TV

Bea Schumacher is a devastatingly stylish plus-size fashion blogger who has amazing friends, a devoted family, legions of Insta followers–and a massively broken heart. Like the rest of America, Bea indulges in her weekly obsession: the hit reality show Main Squeeze. The fantasy dates! The kiss-off rejections! The surprising amount of guys named Chad! But Bea is sick and tired of the lack of body diversity on the show. Since when is being a size zero a prerequisite for getting engaged on television?

Just when Bea has sworn off dating altogether, she gets an intriguing call: Main Squeeze wants her to be its next star, surrounded by men vying for her affections. Bea agrees, on one condition–under no circumstances will she actually fall in love. She's in this to supercharge her career, subvert harmful anti-fat beauty standards, inspire women across America, and get a free hot air balloon ride. That's it.

But when the cameras start rolling, Bea realizes things are more complicated than she anticipated. She's in a whirlwind of sumptuous couture, Internet culture wars, sexy suitors, and an opportunity (or two, or five) to find messy, real-life love in the midst of a made-for-TV fairy tale. In this joyful, razor-sharp debut, Bea has to decide whether it might just be worth trusting these men–and herself–for a chance to live happily ever after.
The Bright Lands by John Fram
Want to know more about The Bright Lands? Check out What James Read's review!
The town of Bentley holds two things dear: its football, and its secrets. But when star quarterback Dylan Whitley goes missing, an unremitting fear grips this remote corner of Texas.

Joel Whitley was shamed out of conservative Bentley ten years ago, and while he's finally made a life for himself as a gay man in New York, his younger brother's disappearance soon brings him back to a place he thought he'd escaped for good. Meanwhile, Sheriff's Deputy Starsha Clark stayed in Bentley; Joel's return brings back painful memories—not to mention questions—about her own missing brother. And in the high school hallways, Dylan's friends begin to suspect that their classmates know far more than they're telling the police. Together, these unlikely allies will stir up secrets their town has long tried to ignore, drawing the attention of dangerous men who will stop at nothing to see that their crimes stay buried.

But no one is quite prepared to face the darkness that's begun to haunt their nightmares, whispering about a place long thought to be nothing but an urban legend: an empty night, a flicker of light on the horizon—The Bright Lands.

The Damned (The Beautiful #2) by Renee Ahdieh
Haven't read The Beautiful yet? Check it out on Amazon for more information!
New York Times bestselling author Renée Ahdieh returns with the second installment of her new sumptuous, sultry and romantic series, The Beautiful.

Following the events of The Beautiful, Sébastien Saint Germain is now cursed and forever changed. The treaty between the Fallen and the Brotherhood has been broken, and war between the immortals seems imminent. The price of loving Celine was costly. But Celine has also paid a high price for loving Bastien.

Still recovering from injuries sustained during a night she can't quite remember, her dreams are troubled. And she doesn't know she has inadvertently set into motion a chain of events that could lead to her demise and unveil a truth about herself she's not quite ready to learn.

Forces hiding in the shadows have been patiently waiting for this moment for centuries. And just as Bastien and Celine begin to uncover the danger around them, they learn their love could tear them apart.
The Lost City (The Omte Origins #1) by Amanda Hocking
Want to know more about The Lost City? Check out Bookworm Coalition's review!
New York Times bestselling author Amanda Hocking returns to the magical world of the Trylle with The Lost City, the first book in the final Trylle arc.

Nestled along the bluffs of the forested coast lays the secret kingdom of the Omte—a realm filled with wonder…and as many secrets.

Ulla Tulin was left abandoned in an isolated Kanin city as a baby, taken in by strangers and raised hidden away like many of the trolls of mixed blood. Even knowing this truth, she's never stopped wondering about her family.

When Ulla is offered an internship working alongside the handsome Pan Soriano at the Mimirin, a prestigious institution, she jumps at the chance to use this opportunity to hopefully find her parents. All she wants is to focus on her job and the search for her parents, but all of her attempts to find them are blocked when she learns her mother may be connected to the Omte royal family.

With little progress made, Ulla and Pan soon find themselves wrapped up in helping Eliana, an amnestic girl with abilities unlike any they have ever seen before—a girl who seems to be running from something. To figure out who she is they must leave the city, and possibly, along the way, they may learn more about Ulla's parents.
The Princess Will Save You by Sarah Henning
Want to know more about The Princess Will Save You? Check out an excerpt on Tor's website.
A PRINCESS
A STABLE BOY
A QUEST

When her father dies, Princess Amarande is given an ultimatum: Marry the leader of one of the four neighboring kingdoms, or lose her crown—and possibly her life. And to force her hand, her beloved, the stable boy Luca, is kidnapped.

But Amarande was raised to be a warrior, not a sacrifice.

And nothing will stop her from saving her true love and rescuing her kingdom.

The acclaimed author of Sea Witch turns the classic damsel-in-distress tale on its head with this story of adventure, identity, and love.
The Summer I Drowned by Taylor Hale
Want to know more about The Summer I Drowned? Check out bellerose reads' review!
The past always resurfaces…

Five years after almost drowning, Olivia Cathart returns home to Caldwell Beach determined to face her fears and take some risks―not just by swimming, but by opening her heart. Hoping to rekindle her friendships, she's excited about a carefree summer with her best friends Keely and Miles. But life in the sleepy town has changed, and no one and nothing is as it seems.

When a series of startling crimes threaten Olivia's fragile state, she is plunged into a terrifying game of cat and mouse. Her only solace from the chaos is West, Miles's disowned and ruggedly handsome brother, but even he can't answer the question on everyone's minds―is Olivia really in danger or is it simply all in her head?
The Voting Booth by Brandy Colbert
Want to know more about The Voting Booth? Check out The Orange County Register's interview with author Brandy Colbert!
Marva Sheridan was born ready for this day. She's always been driven to make a difference in the world, and what better way than to vote in her first election?

Duke Crenshaw is so done with this election. He just wants to get voting over with so he can prepare for his band's first paying gig tonight. Only problem? Duke can't vote.

When Marva sees Duke turned away from their polling place, she takes it upon herself to make sure his vote is counted. She hasn't spent months doorbelling and registering voters just to see someone denied their right.

And that's how their whirlwind day begins, rushing from precinct to precinct, cutting school, waiting in endless lines, turned away time and again, trying to do one simple thing: vote. They may have started out as strangers, but as Duke and Marva team up to beat a rigged system (and find Marva's missing cat), it's clear that there's more to their connection than a shared mission for democracy.

Romantic and triumphant, The Voting Booth is proof that you can't sit around waiting for the world to change . . . but some things are meant are meant to be.
Unravel the Dusk (The Blood of Stars #2) by Elizabeth Lim
Haven't read Spin the Dawn yet? Check it out on Amazon for more information!
The thrilling sequel to SPIN THE DAWN, a magical series steeped in Chinese culture.

Maia Tamarin's journey to sew the dresses of the sun, the moon and the stars has taken a grievous toll. She returns to a kingdom on the brink of war. The boy she loves is gone, and she is forced to don the dress of the sun and assume the place of the emperor's bride-to-be to keep the peace.

But the war raging around Maia is nothing compared to the battle within. Ever since she was touched by the demon Bandur, she has been changing . . . glancing in the mirror to see her own eyes glowing red, losing control of her magic, her body, her mind. It's only a matter of time before Maia loses herself completely, but she will stop at nothing to find Edan, protect her family, and bring lasting peace to her country.

YA fantasy readers will love the sizzling forbidden romance, mystery, and intrigue of UNRAVEL THE DUSK.
You're Next by Kylie Schacte
Want to know more about You're Next? Check out Herminia's review!
When a girl with a troubled history of finding dead bodies investigates the murder of her ex, she uncovers a plot to put herself—and everyone she loves—on the list of who's next.

Flora Calhoun has a reputation for sticking her nose where it doesn't belong. After stumbling upon a classmate's body years ago, the trauma of that discovery and the police's failure to find the killer has haunted her ever since. One night, she gets a midnight text from Ava McQueen, the beautiful girl who had ignited Flora's heart last summer, then never spoke to her again.

Just in time to witness Ava's death from a gunshot wound, Flora is set on a path of rage and vengeance for all the dead girls whose killer is never found. Her tunnel-visioned sleuthing leads to valuable clues about a shocking conspiracy involving her school and beyond, but also earns her sinister threats from the murderer. She has a choice—to give up the hunt for answers, or keep digging and risk her loved ones' lives. Either way, Flora will regret the consequences. Who's next on the killer's list?
Are you planning on picking up any of these new releases?  Let me know in the comments which one you are most excited for!!
Save this list for later!