Her Soul to Take (Souls Trilogy, #1)
by
Harley Laroux
Series:
Souls Trilogy #1
on April 10, 2021
Genres:
Erotica
Pages:
350
Format:
ebook
Source:
Bought
Buy on Amazon
Goodreads
Leon
I earned my reputation among magicians for a reason: one wrong move and you're dead. Killer, they called me, and killing is what I'm best at.Except her.The one I was supposed to take, the one I should have killed - I didn't.The cult that once controlled me wants her, and I'm not about to lose my new toy to them.

Rae
I've always believed in the supernatural. Hunting for ghosts is my passion, but summoning a demon was never part of the plan. Monsters are roaming the woods, and something ancient - something evil - is waking up and calling my name.I don't know who I can trust, or how deep this darkness goes.All I know is my one shot at survival is the demon stalking me, and he doesn't just want my body - he wants my soul.

Her Soul to Take is book 1 in the Souls Trilogy. Although all the books are interconnected, they are stand-alone and can be read in any order.

Content Warning
This book contains graphic sexual scenes, violence, kink/fetish content, horror elements, and depictions of hard kink/edgeplay. This book is strictly fictional and is not meant to represent realistic expectations of BDSM or kink.

Kinks/Fetishes Within: consensual non-consent (CNC), breathe play/choking, bloodplay, spit, needle play (body modification fetish), pain play, fear play, public play, bondage, restraint, spanking/impact play.
my thoughts:
Harley Laroux is a completely new author to me. Her Soul To Take is my first foray into her writing and to say I was impressed would be an understatement.
Some of the first books I fell in love with were paranormal romances. Over the years, I've found that I find it hard to love them like I used to. It seems like everything has already been done and I gave up looking for unique PNR reads. Harley Laroux, however, has definitely delivered with a unique new story.
Leon is a demon, held captive for centuries to do the bidding of one family. He's not happy about it but without the grimoire containing his true name, he is not in control. When the family in charge sets their sights (and therefore, Leon) on Rae, things start to change.
Rae is a normal girl, obsessed with the supernatural. She runs a Youtube channel featuring her exploits searching for ghosts and anything else outside the ordinary. When given the opportunity to explore her new town's dark past, she can't pass it up. Little does she know that this town's past is much darker than she ever could have imagined and her own family's history is all tied up in it.
Rae and Leon both captured my heart immediately. Rae is a give no fucks, take no shit kind of girl who you can't help but like. Leon is a dark and twisted guy who has seen some shit and still manages to have a heart (buried deep, but still there). Rae could seriously get on my nerves though. She seemed to lack common sense at times (or at least, choose to ignore it). Her life was in danger many times throughout the course of the story and every time she seemed to put herself in that terrible position!
While I loved the characters, the worldbuilding, and the plot, I can't fail to mention the sex. This is true erotica so don't expect anything tame or fade to black. Harley Laroux delivers all the kink. Leon has been around for centuries so needless to say, he's seen and done it all. He's into some twisted shit and Rae is intrigued by all of it. While some of the kinks were truly outside the norm, they were all handled extremely well and written wonderfully. Harley Laroux does a great job introducing things that may not be mainstream and attempting to normalize them a bit.
Overall, Her Soul To Take is dark, twisted, and kinky in the best possible way. While impatiently waiting for the next book in this trilogy, I will be devouring Harley Laroux's backlist catalog.
What are some of your favorite paranormal reads?
if you liked Her Soul to Take, you might also like: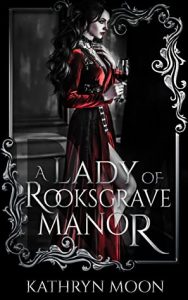 Save this review for later!