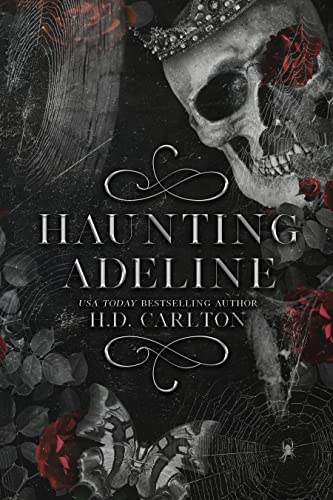 Haunting Adeline (Cat and Mouse Duet, #1)
by
H.D. Carlton
Series:
Cat & Mouse Duet #1
on August 12, 2021
Genres:
Romance
Pages:
551
Format:
Paperback
Source:
Bought
Buy on Amazon
Goodreads
The Manipulator

I can manipulate the emotions of anyone who lets me. I will make you hurt, make you cry, make you laugh and sigh. But my words don't affect him. Especially not when I plead for him to leave. He's always there, watching and waiting. And I can never look away. Not when I want him to come closer.

The Shadow

I didn't mean to fall in love. But now that I have, I can't stay away. I'm mesmerized by her smile, by her eyes, and the way she moves. The way she undresses...I'll keep watching and waiting. Until I can make her mine. And once she is, I'll never let her go. Not even when she begs me to.
my thoughts:
Before even thinking about reading this one, be sure to check trigger warnings. I'm a fan of dark romances and I've read a lot of them (ranging from tame to pretty extreme) and this one definitely falls on the pretty extreme end of the spectrum.
Haunting Adeline is the story of Addie, an author who lives alone in the haunted manor that she inherited from her grandmother. Shortly after moving in, she discovers a dark secret; her great-grandmother was murdered in that house and the killer was never caught. As if that's not enough, Addie starts to see similarities between her own life and that of her murdered grandmother, the biggest being that each of them had a stalker. Addie's recently discovered that someone has been watching her, both in and out of the house. Her stalker will not let her go and the more she reads in her great-grandmother's journals, the more she starts to feel like history might be repeating itself.
I was genuinely creeped out by Haunting Adeline. The haunted manor was enough to make me feel like I should be reading only in daylight hours but add in Zade, Addie's rather frightening stalker, and it took it to a whole other level. While I didn't necessarily feel like the spirits of Addie's house were out to harm her or malevolent at all, they were still a little disquieting. If you live alone, this one may make you start to hear things that aren't necessarily there.
Here is where it's hard to explain my feelings; Addie and Zade's relationship. Zade is Addie's stalker. He doesn't try to hide the fact that he's obsessed with her and Addie never makes light of how their relationship started. Zade is not a good person when it comes to Addie. If you're looking for a traditional romance, this is not it and not the one for you. However, I genuinely liked Zade and Addie with each other. He brought out her sassy personality and she never shied away from putting him in his place. As for the chemistry between the two, it was off the charts. Things between Zade and Addie were dark, kinky, and extremely sexy.
The mystery aspect was pretty well done but don't expect anything extremely unique or surprising. It was easy enough to guess what happened to Addie's great-grandmother pretty early on. I don't feel that it detracted from my enjoyment though since that was only a side plot of the story.
My biggest complaint is that I felt that both Addie and Zade were extremely flat characters. Addie didn't seem to have much personality at all and her draw to Zade came across as purely physical. She talked a lot about his looks but never delved into aspects of his person that she was drawn to. As for Zade, other than being Addie's stalker, the only other thing we learned about him is that he works to end sex trafficking. To be honest, it felt really forced and mentioned frequently almost as a way to redeem him for the bad things he was doing to Addie.
Overall, Haunting Adeline falls right on that line between mediocre and good. It had a lot of potential but fell flat at times. I enjoyed it enough that I'll check out book two, especially after that cliffhanger ending.  I genuinely believe H.D. Carlton is an author to check out but I don't know if this is the one I'd recommend as your starting point.
Have you read this duet? What are your thoughts on dark romance?
if you liked Haunting Adeline, you might also like:
Save this review for later!